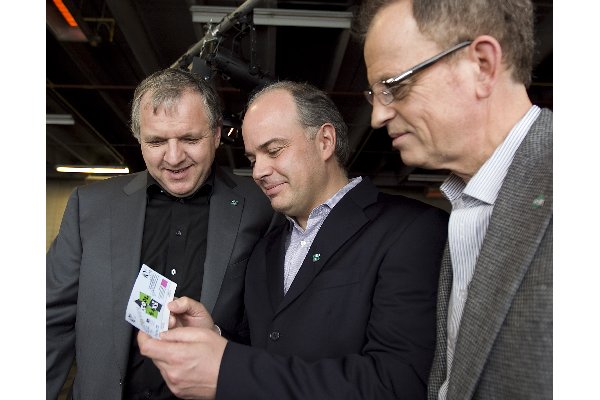 Concerned fathers: François Rozon, from left, Michel Méthot and Nicola Di Iorio joined forces to come up with the Cool Taxi coupon program in 2010 after their daughters were seriously injured in an early morning car crash. Photograph by: Pierre Obendrauf , GAZETTE file photo
In the wake of their life-altering tragedy, François Rozon, Michel Méthot and Nicola Di Iorio moved fast to prevent others from living through what they had.
In 2010, they came up with the idea of Cool Taxi, prepaid coupons in denominations of $5 and $10 that are accepted by all taxis across the province.
Available at Couche Tard, Banque Nationale and Familiprix locations, about 50,000 coupons are sold each month, a number that varies according to the season.
"When you're at the hospital, you realize that people have these accidents every day, that every day lives change, families and everyone around them have their lives shattered," said Rozon, whose teenage daughter, Justine, must be fed through a tube since a car accident on July 24, 2010. "And you want to do something so that fewer people have to experience this."
The program is run by the Comité provincial de concertation et de développement de l'industrie du taxi, which oversees the taxi industry, and the Société de l'assurance automobile du Québec, the province's automobile insurance board. But committee president, Dory Saliba, said they are looking for more partners to help out with publicity. They're also working with Petro-Canada to allow independent drivers to exchange the coupons for gas.
Saliba said there's no charge to the taxi drivers to use the coupons and they give change. "Unfortunately, it can happen that a taxi driver might not accept them, but they are obliged to," he said. "But the majority do take them because they are fathers themselves and they understand."
Saliba said it's impossible to know how many lives have been saved by the 1.2 million coupons sold since the program started two years ago.
"Each coupon could save a life or two or three," Saliba said, adding they hope to branch out to pre-paid cards.
Source:
montrealgazette.com