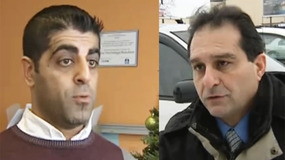 Edgard El-Kalaani, of the Montreal Taxi Owners (left) and Dory Saliba of the Taxi Industry Development Committee say measures are needed to improve the lives of taxi drivers.
They think an upcoming para-municipal council comprised of elected officials, taxi customers and yes, drivers themselves, will help them steer towards their goals.
It could help them organize to oppose some of the restrictions which have forced them to shell out with no corresponding profit, such as in the case of the mandatory new domes.
"The regular dome used to cost us $30, this new dome costs us $250," said Edgard El-Kalaani of the Montreal Taxi Owners Association. "We are with the city to help us to have better service or a better image for Montreal but we need support," he said.
He says that many drivers feel under attack, as the city promotes the Bixi bikes and has offered a new bus to the airport while the taxis themselves are left to languish.
But the drivers feel some relief, at least, knowing they'll be taking part in decisions that will decide future policy, such as whether all taxis should be the same make and model in the future.
Montreal's taxi industry has taken a major downtown in recent years and it's to the point that some have started declaring bankruptcy.
About 25 taxi owners went bankrupt in the first six months of 2010, which the taxi owners say is signs of a drastic problem.
Any money that could go towards upgrades would be greatly appreciated.
"If you want to make the change we need to get much money before because now because since 2008 the taxi industry has been going down," Dory Saliba of the Taxi Industry Development Committee.
Source: c
tvmontreal.ca
MONTREAL — Montreal's hacks live a hardscrabble existence cruising for rides, sometimes working 15-hour workdays for little profit. Many complain they have little say in the regulation of their industry, which often results in new rules that aren't only pointless but actually undermine their interests.