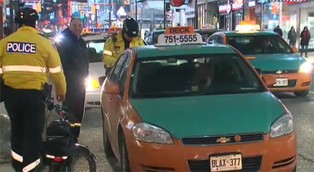 We've all heard stories of the good ol' days where cars ran wild on Canada's longest street. Yonge Street stretches from downtown Toronto all the way to Lake Simcoe for a total of 1,896 kilometres and attracts all kinds of pedestrians and cars. Back in the day, it was claimed that cars used to line up by the dozen for street race after street race until the local police constable told those crazy kids to head out past the city limits.
Today things are different, very different.
Last night at approximately 8:00pm two cabs were heading northbound just past the busy Dundas Square area. At some point, the testosterone kicked in and they apparently decided to see just whose
Chevy Impala
was quicker. Was it a propane versus gasoline showdown? A Beck Taxi versus Royal cab battle? Only the Metro Toronto Police know the rationale behind why they decided to race and decided it was enough to seize both taxis for 7 days under
Ontario's strict street racing and stunting laws.
EDIT:
The pair of drivers have been formally charged, their licences are revoked for seven days and they also face fines of $2,000 to $10,000 if convicted. It is not clear whether the drivers will be fired or not as a result as both companies involved were unavailable for comment.
Source:
ca.autoblog.com