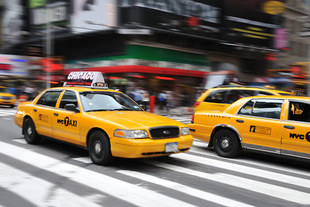 More than half the total fare revenue to New York City taxis was paid with the swipe of a charge card last month, more evidence of a marked shift in the way New Yorkers pay for an iconic amenity, the yellow cab.
Fifty-five percent of the gross revenue to taxis in January came via credit card, and cards were used in 47% of all taxi trips, according to the Taxi and Limousine Commission. Compare that to 2009, shortly after card readers became standard in taxi cabs when about one-third of trips were paid for by charge cards.
The shift to cards has driven a surge of new business for taxi drivers and owners, according to regulators and representatives for medallion owners, and seemed to help insulate the industry from a potentially deep plunge in the recession of 2008.
Total revenue to the industry has recently averaged more than $6.3 million per day—up significantly from 2008.
The ability to use credit cards has helped bring new customers into taxis, including businesspeople who prefer the ability to itemize credit card expenditures instead of using cash.
"Why do restaurants and businesses accept credit cards when they get charged a fee on it? Because it brings in more business," said Michael Woloz, a spokesman and lobbyist for the Metropolitan Taxicab Board of Trade, an association of 35 different taxi fleets, which lease to about 14,000 individual drivers.
And while only anecdotal reports exist about the tipping habits of cash customers, all sides are in agreement that credit card customers seem inclined to tip slightly more on average. Cash tips have averaged around 10%, according to driver advocates, but TLC records show that charge card tips hover around 18%.
But the shift to charge cards is also exposing tensions, both new and long-standing, among varied camps that vie for a share of the taxi system's revenue.
Medallion owners are allowed to withhold 5% of the daily credit card take from drivers who lease their vehicles. That was intended to cover the roughly 3.5% processing fee for credit card sales, processed by the companies that installed the credit card terminals, Verifone and Creative Mobile Technologies. The remaining 1.5% fee was intended to help the fleets and garages that lease cabs or taxi medallions to licensed drivers cope with the new overhead costs of accepting cards. That included new accounting responsibilities, as well as the need to keep larger amounts of cash on-hand to pay out drivers for their credit card receipts after a shift.
As the share of fare revenue paid on credit cards has soared, that extra 1.5% has swelled to represent a larger share of the money changing hands in a single day of taxi rides—and a larger bite out of each driver's daily take. "The more fares we see in credit cards, the more you end up losing at the end of the year as a driver because of the 5%," said Bhairavi Desai, the executive director of the Taxi Workers Alliance.
Regulators are aware of those complaints. "We are looking at the economics of credit card processing overall and what costs are appropriate for drivers to bear and what costs are appropriate for fleets to bear," said TLC Commissioner David Yassky.
The 3.5% fee is set by the TLC's contracts with CMT and Verifone, which run through February of next year. But the additional 1.5% for fleet operators should be examined, Mr. Yassky said, now that it represents millions of dollars more in revenue that would otherwise flow to drivers.
"I think when drivers talk about the burden, it's really that amount that needs to be looked at," Mr. Yassky said.
Pressure has mounted to push down the cost of credit card use.
The TLC will meet on Thursday to vote on a proposed pilot program that would outfit 50 cabs with tablet computers operated by Square, the Silicon Valley start-up that provides low-cost credit card processing for individuals and small businesses.
Passengers could use the tablets to search the Internet and use apps, but the real benefit may go to drivers.
Square would operate the credit-card terminals in the 50 cabs and plans to charge lower fees than CMT and Verifone.
"If iPads get put in the back of taxis, I expect the fees to go down significantly, which is good for almost everyone. The drivers will certainly make more money with lower fees being paid and the consumer will have a more enjoyable ride," said Andrew Murstein, the president of
Medallion Financial
Group, a financing firm specializing in taxis.
CMT representatives complain that Square would be permitted to test its technology without the same rigorous security vetting that preceded the installation of the existing credit card terminals. Verifone couldn't be reached for comment.
In a statement, a Square spokesman said its system would be more "cost-effective" for drivers. "We've built a system that meets the specific needs of NYC taxi drivers and makes the payment experience even better for their passengers," he said.
Source: Wall Street Journal