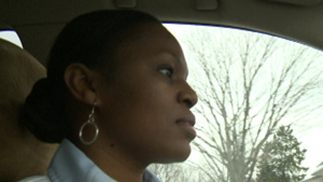 Fleurette Tharet has been running her unlicensed children's taxi for about three weeks and it could soon be shut down. (CBC)
Fleurette Kids Taxi started about three weeks ago and now serves six families by bringing children to lessons, appointments and other events.
Business owner Fleurette Tharet, who employs three people, is looking for more clients in both Ottawa and Gatineau, but bylaw services have other ideas.
Linda Anderson, the city's chief of bylaw and regulatory services, told CBC News late Tuesday an investigation is underway and that would likely spell the end of Tharet's business.
Licensed taxi executive calls children's taxi a 'bandit' cab
The concerns also come from the licensed taxi industry, which believes businesses like Tharet's could lead to more "bandit" taxis.
"In our industry, we spend a lot of money to maintain a high standard, we're highly regulated," said Hanif Patni, head of Coventry Connections, which runs taxi companies such as Blueline.
Ottawa mother Genevieve Leroux said she depends on Tharet to help her with her four daughters' extracurricular activities.
"Then you have someone out there that calls themselves a 'kids taxi' and is working as what we call a 'bandit' cab."
But Tharet, who is a licensed early childhood educator, said she is trying to get a license for her business.
She also said she saw a need for her children's taxi.
"I see it in my everyday life and I see there was a need for this service in this city, so I decide to start the business," she said.
Mother of four daughters in two schools, Ottawa resident Genevieve Leroux has a lot of lessons and practices to get her daughters to.
Recently separated, Leroux said she relies on Tharet's taxi business and worries that help will soon be gone.
Source: CBC.ca
City officials in Ottawa are investigating an unlicensed children's taxi that helps out busy families.