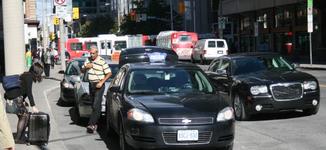 Taxi-license owners won a victory Thursday after the committee overseeing their industry agreed to a number of changes, including allowing cabs to stay on the road longer.
Cab owners have been pushing for changes to some of the rules for the 1,300 taxis in Ottawa, saying their industry had fallen on hard times.
The committee responded, agreeing to allow drivers to keep their vehicles on the road for eight years, instead of seven, and allowing replacement vehicles to be as old as five years when they're brought into service.
The committee also agreed to allow for annual instead of twice-a-year inspections for vehicles newer than five years.
The city's chief license inspector, Susan Jones, said the changes lower the industry's costs without raising fares for customers.
"They didn't seek a fare increase so this tends to benefit the public... we're not passing on higher costs," said Jones. Councillor Diane Deans questioned what she saw as a regressive step.
"I don't want to regress and see us having older cabs which are not safe and not serving the public interest well," said Deans.
Accessible license plates now transferable
The committee also agreed to allow license plate owners to buy and sell accessible cab license plates on the open market just like regular plates.
Most of the 108 accessible plates were made non-transferable when they were introduced, as a way of controlling the industry while ensuring sufficient taxi service for disabled passengers.
Now on the open market, these plates are expected to trade for $100,000 or more. Committee chair Mark Taylor said the sale of those plates is outside the committee's role.
"Our job as the regulator is to maintain that regulatory role, not get into a sales role," said Taylor.
Deans said the plate-transfer system is a "licensed cartel" that makes plate owners rich, while encouraging drivers to cut corners in an effort to bring in more fares.
"It's disappointing to see us moving backward for no apparent reason, and with no offsetting gains for the municipality that I can see," she said.
The changes still need the approval of city council.
Source:
cbc.ca