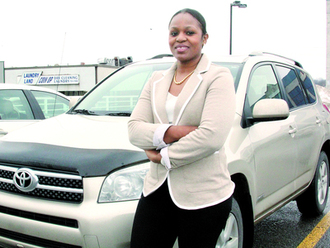 Fleurette Tharat, pictured here on Feb. 14, 2012, stands next to her Toyota RAV4 that she used to chauffeur kids around town for her taxi service.
A taxi service for kids stymied by a bylaw complaint may get around the rules by becoming a kids limousine service.
The catch? Owner Fleurette Tharat will have to change the name of her business.
Tharat, an early-childhood educator, launched Fleurette Kids Taxi in late January and charged parents $20 to $40 to chauffeur their kids. The city started to investigate her in February after a bylaw complaint, which prompted Tharat to suspend her service.
On Tuesday, Tharat referred phone calls to her business consultant, Alexander Leslie, who said he met with bylaw Monday to discuss the possibility of running a limousine service instead.
Tharat is in the process of obtaining a limousine licence, Leslie said.
He said Tharat meets almost all city bylaw requirements to operate a limo service, such as having power windows, air conditioning and a cellphone for passengers.
She can fulfil one remaining requirement by tinting her windows, but the city threw one more hurdle up.
"They've asked her to take the word 'taxi' out of the name, (but) there's no place in the bylaw (saying) what the company has to be named," said Leslie.
"It just seems a bit unfair to go through all this to realize that, yes, it is safe, effective, and legal and she still has to rename her company."
Leslie said Fleurette is debating the city's request and in the meantime, the city will inspect her Toyota RAV4 next week.
Source:
metronews.ca