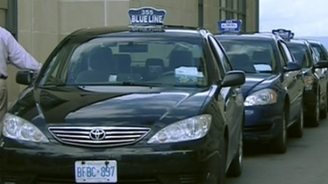 The city issues taxi plates for a nominal fee, and then they're bought and sold for six figures by, in many cases, people who don't drive taxis but rent them for significant profits to people who do. Back after amalgamation, this was seen to be a problem, in that it sucked money out of the taxi economy for no obvious public benefit, but one it was impractical to fix in a morally acceptable fashion. Simply cancelling the plates would destabilize the industry and wipe out investments by individuals that had topped $100,000, but buying back 1,000 plates at that price would cost $100 million or more.
So the city decided to start issuing more plates for accessible cabs, of which there was a dire shortage. A decade later, we have 173 of them on the street, roughly one in seven of the taxis in Ottawa. Since those plates began to be traded around like regular plates, the city decided in 2007 to make new accessible plates untradeable. When you're done with it, you return it to the city to be issued to someone else. As a plate owner, your profit comes from driving a cab and charging people money for it.
Now
that
's considered to be a problem, so the city's moving to make the no-trade plates tradeable like all the others, precisely so that they
will
increase in value, to the advantage of people who happen to have been issued them.
The report explicitly describes the change as a way of letting each driver of an accessible cab make money off that little enterprise, whose only other asset is typically a car or minivan that quickly depreciates.
"For those drivers who were issued their plates after 2007, there is no ability to recover the large capital investment that they make in their business," the report says.
It's true that in this formulation, there's essentially no way of turning taxi-driving into a "business" in the traditional sense. You drive, you take riders from place to place, you get paid, you go home. You sock money away so that when the time comes, you can buy a newer car. That's the basic shape of it. This is how a lot of people's workdays go, more or less. It seems odd to use the plate system explicitly as a way of letting taxi drivers build equity in the taxi industry, given that the plates rise in value no matter what (as long as the city maintains the scarcity of plates) and the plates need not be owned by anyone who drives a cab.
But it is, as Councillor Mark Taylor (whose community and protective services committee regulates the taxi industry)
told me Friday
, a matter of basic fairness.
Taylor said it's not the city's business if taxi plates it issues for a $400 administration fee are worth six figures to private buyers.
"Once they get out there in the marketplace, the arbitrary value that taxi drivers choose to put on their plates isn't something that concerns me a whole lot," he said. He compared selling a taxi plate to someone selling a corner store — the city charges some fees for the paperwork involved in transferring a business, but doesn't care what the sale price is.
The thing about this, as I suggested to Taylor, is that the city doesn't deliberately maintain a scarcity of corner stores. Zoning permitting, you can open a corner store wherever you think you can make a buck doing it — or even where you
can't
make a buck, if you really want to. The city doesn't care if you go bust.
Whereas although it's possible to go bust as a taxi driver, by refusing to drive the car or pick up fares, the city explicitly restricts the number of cabs so that the people who hold plates can expect to turn a profit as long as they do some reasonable amount of work. That's what makes the plate valuable — the city makes it so. And the value isn't "arbitrary," it's set by a relatively rational market of buyers and sellers.
Taylor's larger point, that we don't care about all that other stuff as long as the result is good customer service, makes sense on its own. An argument could be made that, whatever story any of can tell about a particular taxi experience here or there, the industry is, you know, adequate. As long as non-drivers are sucking hundreds of thousands of dollars a year out of the pockets of drivers, though, it's hard to see that riders are really getting what they're supposedly paying for.
Update:
Furey
agrees and goes farther
. There is one thing in his column worth commenting on:
The report's also happy with "the requirement for all taxicabs to be equipped with Wireless Point of Sale devices for payment by debit or credit cards for customer convenience." Here's a better idea: cab companies decide whether to offer this service or not. The ones that do will be rewarded with customer loyalty, the ones that don't will suffer from offering less choice for the consumer.
True as far as it goes, although the justification for setting payment standards is so that you know what you're getting when you step into an Ottawa taxi, no matter what line it's with and even if you're walking out of your hotel and you've never been here before. It'd be problematic for
some
cabs to have credit-card machines and others not and no way for the amateur to know which is which, or even that such a difference exists. You can well imagine the section in the guidebook warning people about this.
It's the same reason the regulators standardize fares: it could make sense on one level for some cabbies to compete on quality and others on price, but making sense of such a system seems a lot to ask of people who aren't students of the system.