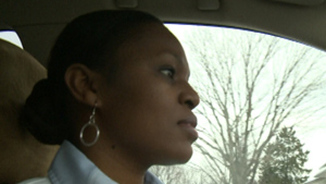 Fleurette Tharet ran her unlicensed children's taxi for about three weeks before Ottawa bylaw officials began to investigate. (CBC)
The City of Ottawa has shut down a taxi service for children launched by an early childhood educator just two months ago.
Ottawa mother Fleurette Tharet launched Fleurette Kids Taxi in January of this year to help busy parents who needed to pick up and drop off their children.
City officials began to investigate the before and after-school babysitting service in February to determine if it was a "bandit" taxi — as taxi companies called it — or a daycare service.
They spent one month looking into all the details of the business, which operated in both Quebec and Ontario, and told Tharet Monday she had to stop assisting the six families and cease operations immediately.
That included three other drivers who were employed by Tharet.
Bylaw officials decided the business was indeed a taxi and the woman was not complying with Ottawa's taxi bylaws and regulations, which are in place to protect passengers.
All licensed taxis must be properly insured, drivers must first be screened and all have to have in-car security cameras.
Source: cbc.ca