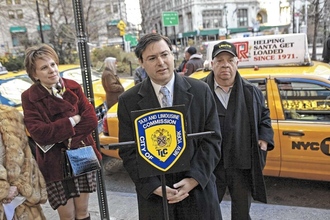 Taxi riders can have receipts emailed or texted to them under a pilot program approved Thursday.
The Taxi and Limousine Commission gave the green light to three companies to test new technology in a total of 90 yellow cabs.
One company, San Francisco-based Square, said it will install iPads that allow riders to swipe credit or debit cards during the ride and request electronic receipts.
"It's great for filing expenses," Square spokeswoman
Katie Baynes
said, noting the iPads won't be functional for games, email or surfing the Internet.
Creative Mobile Technologies and Verifone, which have been providing backseat technology are also doing tests in 30 cabs each.
Their current TLC contract expires in February.
Commissioner Nora Marino
said she was concerned placing iPads in cabs would be risky. "Those are very hot items," she said. "Drivers have been shot for a lot less."
But
TLC Chairman David Yassky
insisted the electronics would be securely installed. "Any innovation that increases the likelihood that passengers will pay with plastic serves to reduce the risk of theft," he said.
Source:
nydailynews.com