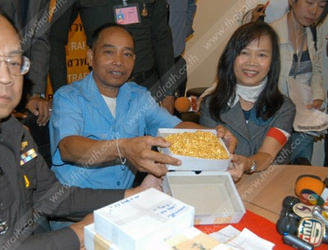 BANGKOK - A Thai taxi driver returned $400,000 worth of gold ornaments that were left in his cab by a forgetful passenger, the Thai Rath daily reported Friday.
The passenger, a gold store owner, left a bag of valuable ornaments in the pink taxi after traveling across Bangkok to do a business deal Tuesday.
The passenger contacted police, and the story quickly hit the headlines, but he was forced to wait an agonizing three days before he was reunited with his precious cargo.
Police warned the driver that he could face arrest and scouted gold stores to see if anyone was pawning the missing items.
Police alerted 20 cab companies to search for the driver, but with 20,000 pink taxis in operation in Bangkok and the license number obscured in CCTV footage, the odds were slim, The Nation reported.
When the driver eventually returned the gold, he said he had spent the past two days driving around the Thai capital looking for the passenger without success.
"His excuse doesn't make sense if he intended to return the gold to its owner, as he knew where they got off," police spokesman Udom Sukprasert was quoted as saying by AFP.
The relieved passenger rewarded the driver with gold items worth $6,400.
Read more:
myfoxdc.com