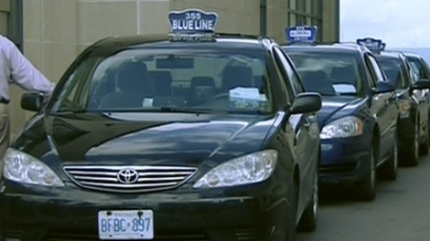 City council voted to give 108 cab drivers each a six-figure windfall Wednesday afternoon by letting them sell the plates that give them the right to run taxis, but also approved a move that could slash the fortunes of 1,000 other plateholders by much more.
The changes are part of a larger package of reforms aimed at improving service from Ottawa's wheelchair accessible taxis while loosening the restrictions on cab drivers so they can make a little more money.
But by far the most contentious move is letting drivers sell the 108 taxi plates issued since 2007 on the open market. The city restricts the number of taxis on the road in an effort to make sure there's enough business for everyone in the industry to make a decent living and maintain their vehicles. Most of the plates on the road, which date back decades, can be bought and sold like any other property, unique among city business licences, and hundreds of them are owned by people who aren't licensed cab drivers. They reportedly go for up to $300,000, with more than half the city's 2,800 drivers having to pay fees to plateholders to be allowed to drive.
After amalgamation, the city began issuing plates only for wheelchair accessible cabs. That's been a success: the city went from a single accessible cab to 173. Then, in 2007, in an effort to tie plate ownership to customer service, the city started issuing plates that couldn't be transferred. When a driver was done, he or she had to return the plate to the city.
Now, by a 14-8 vote, city council has changed the rule. After five years, any of those plates can be traded around like any other. Mayor Jim Watson called it a matter of basic fairness, since it's wrong to have two classes of cab drivers - those who can sell their plates and those who can't. The city also wants drivers of accessible taxis to make some retirement money through the expected increase in value of their plates.
Most of the opponents of the move were veteran councillors who made the rule in the first place. Councillor Peter Hume pointed out that current plateholders will make a mint, but that money will come directly from new people who want to enter the industry. He pointed to a recent study for the City of London that says transferable plates are "unhealthy for the industry."
"I don't see this as a fairness issue in my mind," said Councillor Diane Deans, who led the taxi regulation effort on previous councils. "The question I keep asking is why. Where did it come from? Why? Why? Why?"
Staffer Susan Jones, the city's general manager of emergency services (which includes the bylaw department, which handles taxi regulations) acknowledged it makes no difference to her. The decision is simply up to council, she said.
"This is a question of equity and fairness," argued Cumberland Councillor Stephen Blais on the other side. "I don't understand how we can have two classes of plateholders."
There still are two classes - those who have accessible-cab plates and those who have regular ones. But city council voted to at least look at doing something about that, too. Jones's department and city lawyers are to spend a few months looking at prospects for capturing more value for the city from new plates) and, more importantly, turning existing regular plates into accessible-cab plates when they change hands.
That would cut the value of regular plates because plates for accessible cabs don't trade at the top of the market, pointed out driver and regular-plate owner Balraj Dhillon after the vote. Regular cabs are cars, usually bought used; accessible cabs are specially modified minivans.
"I drive a regular taxi. It costs me five grand. So the plate is worth more. He drives an accessible cab," Dhillon indicated of his friend, Jagir Singh Dhami, "and the initial investment is 50 grand. You have to spend that money, you work with the disabled, it's a harder job."
If a regular plate can be bought for $250,000 to $300,000, Dhillon said, a plate for an accessible cab costs more like $100,000.
Asked whether it's fair that the city should change the rules to make a plate he accepted under the previous system more valuable, Dhami said he didn't understand the question and walked away.
EASY RIDERS
City council voted 14-8 to make more taxi plates tradable
YES
Stephen Blais
David Chernushenko
Rick Chiarelli
Keith Egli
Mathieu Fleury
Katherine Hobbs
Allan Hubley
Bob Monette
Shad Qadri
Mark Taylor
Doug Thompson
Tim Tierney
Mayor Jim Watson
Marianne Wilkinson
NO
Peter Clark
Diane Deans
Eli El-Chantiry
Jan Harder
Diane Holmes
Peter Hume
Maria McRae
Scott Moffatt
ABSENT
Rainer Bloess
Steve Desroches
Read more:
ottawacitizen.com