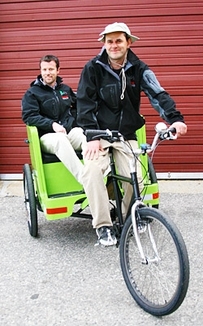 Portland's streets are about to become a little bit greener as a national bike taxi company prepares to put the rubber to the road. Boston Pedicab has brought its bright green bike taxis to a handful of other U.S. cities since it was founded in 2005. Now it's Portland's turn.
With an ample tourist season, minor league sports teams and a non-centralized layout, the city is seen as a promising market, according to Boston Pedicab General Manager Justin Bruce. "It's just a feel from when I go visit places," says Bruce.
Maine Pedicab will debut in the coming weeks with a soft launch. Drivers will test out different routes with one to three bike taxis, or "pedicabs," at a time before the eight-cab fleet is unleashed. "The goal is within two months people will see a lot of pedicabs out," says Bruce. The pedicabs look like normal bikes in the front, but the back features a two-person seat.
Bruce cites streets like Commercial, Congress and Fore and the area surrounding Hadlock Field as potential pedicab hot spots. "Sporting events are a big thing, as well as tourism, cruise ships and the geography of a city," all in Portland's favor, he says. "A very circular, small city where people can walk in a very short time is not a very good pedicab market."
The company's Portland headquarters -- a warehouse space in the East End's Portland Company Building -- will ensure easy access to tourists traipsing through the Old Port or coming off cruise ships.
Bruce expanded Boston Pedicab from a fleet of five to 24, and over the last seven years has also established operations in Washington, D.C., San Francisco and Seattle.
And while the company usually promotes from within when expanding into a new market, Bruce says the company made an exception in the case of Portland, tapping local pedicab entrepreneur Nate Hamburger to manage the new operation. "We're thrilled to have him," says Bruce.
Hamburger bought his own pedicab for $3,500 in 2010, a decade after the unique mode of transport first caught his attention during a vacation in Key West, Fla. "I bought a pedicab because I saw something I thought I would really enjoy doing and it seemed like you could make money at it," he says.
He launched Rickshaw Nate's Eco-Taxi in the summer of 2010, but his inaugural season was not quite what he expected. Anticipating the need for a financial cushion, Hamburger worked a full-time job while running the budding pedicab venture, limiting the time he could spend drumming up business on Portland's streets.
"I thought Portland had so much potential and thought that with my own service, things would gradually come, but I realized that wasn't the case and I didn't have the resources," says Hamburger.
Upon learning that he needed a license to operate a bike taxi in Portland, Hamburger shifted his service to Old Orchard Beach. Lax taxi laws and crowds of tourists looking for rides between hotels, bars and the beach made for a lucrative season for Hamburger, who also embraced a tips-only model.
Approached by Boston Pedicab, Hamburger saw the opportunity to realize his vision for a greener, bike-friendlier Portland without the personal investment and risk. "These guys are tried and true, their knowledge of all this is what I needed," says Hamburger. "As long as I'm part of it and watching it grow, I feel like I've accomplished what I wanted to."
The Boston Pedicab business model is standard within the pedicab industry, according to Bruce. Pedicab drivers are hired as independent contractors and work only for tips. "They are running their own business," says Bruce.
Since rates aren't based on time or distance, drivers are more motivated to provide a good customer experience. "It creates more of a relationship with the driver, and it gets a lot more people on the pedicab because they get to pay whatever they think it is worth," says Bruce.
With room for two adults, LED lights and an electric color scheme, Bruce says the fleet will turn some heads on the streets of Portland, making the pedicabs an attractive advertising option. Maine Pedicab provides a template to advertisers and applies a vinyl wrap to the pedicabs bearing the sponsor's message. "We have six cabs available immediately, you can buy out the month or the whole season," says Bruce.
Before saddling up one of the 165-pound, 21-gear units -- technically a tricycle -- made by Colorado-based Main Street Pedicab, drivers must apply for a license through the city at a charge of $76, and pay $30 to train with Maine Pedicab. They must also hold a valid Maine driver's license and renew their bike cab license each year for $66.
Pending background checks and license approval, drivers can sign up for eight-hour day or night shifts. "They get to pick their hours, pick their shifts and if we have bikes available, they can make their own schedule," Bruce says.
Maine Pedicab takes the driver's rental fee from their end-of-the-day tip total, ensuring that a driver will never end a day in the red. The rate will likely increase to as much as 33% as the tourist season hits and tips start growing, but will start off modestly as the company gauges the market.
Portland taxi driver Charles Bragdon says he does not fear pedicabs edging in on the business of the city's taxi cabs. "They are certainly unique, and might help tourism, but they won't hurt the taxi industry," says Bragdon. "The majority of customers they deal with aren't your standard taxi [cab] customers, they aren't going on long jaunts across town," he says.
Bulging calf muscles or no, not everyone is cut out to be a pedicab driver, according to Bruce. "There are three things; it needs to be somebody who can ride a bike for eight hours; they need knowledge of the area -- someone who can show off Portland -- and the biggest is personality. If somebody has a great attitude and people want to spend time with them, they will do extremely well in this job," he says.
So far only one driver has completed licensing and training, but Bruce said he was heartened by the half-dozen applicants who turned out the day the fleet rolled into town, eager to learn more about the pedicab industry and take the units for a spin. "This is one of the best first days we've ever had," says Bruce. "In San Francisco, I was riding by myself for the first four weeks."
Source:
mainebiz.biz