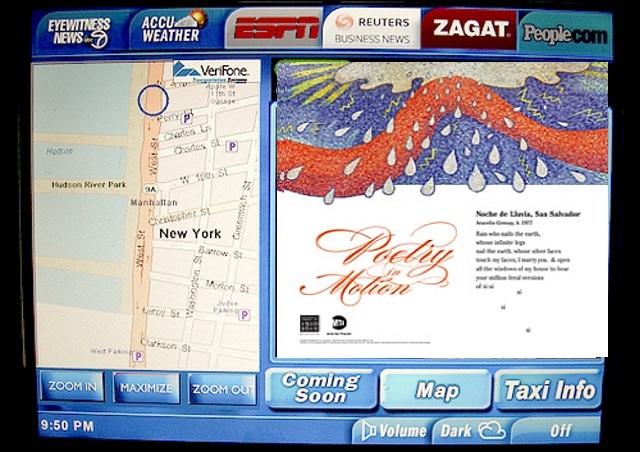 Last month, the
MTA announced
the contemplatively triumphant return of Poetry In Motion to the subways. Unfortunately, buses were left out, forced to ruminate upon the aching chasm in their souls. But good news! Poetry In Motion IS expanding to yellow taxis...well, taxi TVs.
Riders will now be able to enjoy silent 15-second animations of Poetry in Motion selections on television screens as they travel in taxis. "I believe our 600,000 daily taxicab passengers will very much appreciate the gift of poetry," said Taxi and Limousine Commissioner/Chair David Yassky. "Just as history buffs will appreciate the fact that this is the very first inter-modal synergy between taxicabs and the subway system in the 104 years that 'traditional' taxicabs have served the city. So, enjoy your poetic taxi trip, because it signals the beginning of a beautiful friendship!" Inter-modal-synergy/ signals beautiful friendship/ 104 years of tradition. The poetry has infected us.
"What a joy to see the beloved Poetry in Motion program expanding to reach the ridership of taxis in New York," said Alice Quinn, Executive Director of the Poetry Society of America. "Taxis! The emblem of our busy lives!!" The first poems in the project are
"Graduation,
" by Dorothea Tanning, and
"Noche de Lluvia, San Salvador,"
by Aracelis Girmay. You can read that one below.
Source:
gothamist.com