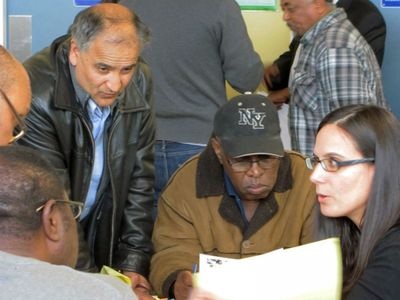 Taxi drivers looking for change. Participants at a consultation session as part of the city's Taxicab Industry review at Main Square Community Centre in Riverdale Thursday. Staff photo/MIKE ADLER
Everyone who shows up gets a pen with an ink colour showing who they are in Toronto's taxi industry. Dark blue pens for the Ambassador drivers. Purple pens for the accessible cab drivers. Black for taxi brokers. Red for owners of standard taxi plates. And green for drivers who must sign a lease or pay an agent to drive, or both.
In Riverdale's Main Square Community Centre, they used the pens to rate ideas on pieces of yellow paper spread on tables at the back of the room, filling in dots under cartoon faces smiling to signal agreement or frowning to indicate opposition.
The men marking in dark blue dots - Ambassadors - were keenly aware the men with the red pens are better off.
Owners of Toronto's 3,451 standard taxi plates can sell, transfer or lease them. Owners of the 1,313 Ambassador plates cannot.
Sukhdev Singh Gill said he waited for 15 years to own a taxi plate. When he got it in 2000 - around the time the new class of licence was created - his Ambassador plate was "less than half what I applied for," he said during the industry review session Thursday, April 12.
"Almost my whole life is gone," said the Rexdale man, who also hosts a radio show for local Sikh audiences. "Sometimes I ask myself, what kind of owner I am."
Driving a cab in Toronto - except for standard plate owners - offers no vacation time and no prospect of retirement.
After a passenger stabbed Khalil Talke in North York last February, he couldn't legally have anyone else drive his Ambassador cab while he recovered in hospital. People were angry about that, said Talke. "The review came out of that."
Like many Ambassador plate owners at the community centre, the North Etobicoke resident had high hopes the review would lead to a system where all taxi plates in the city are on one level, and all can be transferred or sold.
"These councillors are committed to change," and those on the city's licensing committee have learned about the industry, said Talke, who has resumed driving but keeps his left hand clenched inside a black glove.
There must be changes, because drivers are frustrated, including those forced to waste money on agents and brokerages and leases, he said.
A driver with no plate pays $80 for a shift, but he might spend $60 in gas, Talke said, "and out of that he has to get food for his family. At the end of the shift he still owes people $80; no mercy, no nothing. Still, he has to return the key."
Opinions on these issues in the room Thursday were sharply divided, with sheets floating ideas such as, "All Ambassador plates should be regular plates," marked with lots of dark blue dots showing strong agreement, plus a few green and red dots showing strong disagreement.
Kristine Hubbard, operations manager of Beck Taxi, said she's cautiously optimistic about changes the review will bring.
"It needs to be a better industry for drivers to work in," she said. "We want to keep as much money in the drivers' pockets as possible."
Hubbard said the role of agents "has become a disaster," and should be phased out. "What they used to call the big bad owner is now the big bad agent," taking advantage of drivers, she said.
At the back of the room, Sultan Ahmed, a fleet operator, said agents like himself are necessary to keep the system smoothly running. If the city outlaws agents, which aren't licensed or regulated by the city, "the same thing will go on, but under the table. It should be legal, regulated," he said.
Shift drivers arrive in Toronto without money, or access to plate owners, and don't want the responsibility for repairs, maintenance or insurance. "What are they going to do?" said Ahmed, who manages about 60 cars.
The industry without agents, another man near him said, "is like a family without a mother," because agents help drivers out.
As for the Ambassador program, Ahmed said, why change it? The only reason they want conversion to the standard plate is so they can sell it, he argued.
Bruce Thompson, however, doesn't see a need for agents, having leased a cab from one for 13 years. They are middlemen who sign people up and then look for better offers, said the North York man, who also wants the city to give drivers a "bill of rights" just as it offers rights to taxi customers.
One of these driver's rights should be a refusal to take fares if customers don't give a proper destination, or want the driver to go somewhere unsafe. Thompson also said he'd like to see prepayment as an option, especially for journeys outside the city limits.
"I was a night driver. I got stiffed a lot," he said.
Remaining consultation sessions are open to the public (dates and details are at
www.toronto.ca/licensing/taxireview
) and conclude the evening of May 3 in the city hall rotunda. The committee is expected to have a preliminary report on the review findings by September.
Source:
insidetoronto.com