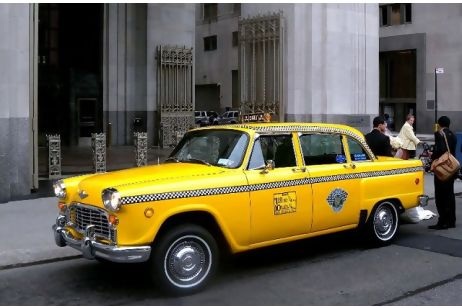 New York Checker Cab
As intrinsically linked to the city of New York as steam rising from vent covers in the street, that unmistakable skyline and rude commuters on the subway, the Checker taxi cab is a true motoring icon and is held close to the hearts of Americans, no matter where they live. The most famous model was known as the Marathon and became a bona fide movie star in its own right during its 26-year production run, which ended in 1982. Checker filed for bankruptcy in 2009 after 87 years in business.
London Taxi
Like NYC's Checker, the London "Black" Cab is recognised all over the world as a symbol of the city from whence it came. There's never been any official requirement for them to be painted black and, indeed, many have been supplied in other hues and are plastered with advertising these days. But a Black Cab means London. The most famous of these was the Austin FX4, which was decommissioned in 1997, and it's said that Prince Philip used one as an anonymous way of dashing around the UK capital.
India's Ambassador Taxi
Tata might have got the world talking about India's car industry, but there's one venerable old timer that refuses to yield to modernity: the Ambassador, which has been in continuous production by Hindustan Motors since 1958. Retaining its Morris Oxford saloon looks, it's changed little over the decades and thousands are sold every year for use as government cars and taxis. They're tough and can be repaired practically anywhere, and Hindustan reckons it'll still be making them 50 years from now.
Beetles in Mexico
The Mexican's didn't allow the fact that the Beetle had only two doors to put them off using them as the nation's cab of choice. They simply removed the front passenger seats to ease access and egress for rear travellers. Brilliant - we like that kind of thinking. Long after the Germans stopped making Beetles, the car soldiered on in Mexico and only recently went out of production. Most taxis were painted green with white roofs to give the (mistaken) impression that they were kind to the environment.
Abu Dhabi gold and white taxis
They may not have been world famous, but if you've lived in the capital long enough, you remember these cabs before the new silver ones came into circulation a couple of years ago. Back when regulations were a little less, shall we say, stringent, these cabs were in dubious repair and very often had a bit of an odour about them, but they would take you across town for a handful of dirhams. They are often remembered but, considering the quality of the new taxis, their loss is rarely lamented.
Source:
thenational.ae