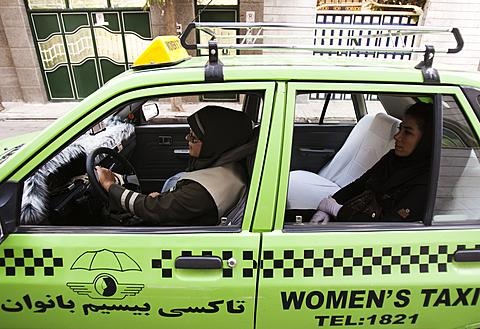 A female taxi driver is seen fetching a passenger in Tehran, Iran, August 21, 2011. About 500 female drivers make up the Women's Taxi company which serves only female passengers.
Micaela Varwiche's two-year-old grandson Ryan is excited to see her come into the door, after a long day away. She is wearing what she wears every day to work - a white shirt and pink tie decorated with a little pink rose. This could be the homecoming of any working mother, anywhere on the globe. But this is Beirut, Lebanon, and this 48-year-old, recently-divorced mother of three has a unique job: She drives a bright, pink taxi.

Varwiche is Romanian immigrant to Lebanon. She has been here 26 years as a wife, but does not read or write Arabic. Driving a taxi is her first official job in Beirut. The pay isn't much and the hours are long, but Banet Taxi offers her something she has never had before: The hope of a bright future. When asked if she sees herself being a taxi driver long term, Varwiche replies, "Why not?"

Empowerment in Kurdistan

Launched in 2009, Varwiche says that Banet Taxi already has six or seven taxis in service. Business is good but it could be better. "We could use some help from the authorities," she explains, "mainly from the Tourist Ministry, which unfortunately is not helping us too much. We are swimming against the current, let's say."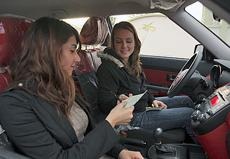 A female taxi driver fetches a passenger in Irbil, about 350 km (220 miles) north of Baghdad, Iraq, November 19, 2011.
In Irbil, a city in the Kurdish region of Iraq, acceptance from local authorities was key to the start-up of PNK Taxi, by Women for Women in October 2011. Owner and founder Lana Yako says that she initially ran into difficulty getting her company registered. But the paperwork was eventually completed, and Yako says she knew she had made it after she won the backing of Irbil's security manager. Today, with three taxis and four women drivers PNK Taxi has plans to shortly add to its fleet and expand to other cities in Kurdistan.

Yako says one important factor she had to overcome was acceptance by the locals. "Back when we started, in the beginning, it was weird. It was something new for this community. Everyone was kind of shocked. But now, people have gotten used to this service."

Still, she says, because driving taxis was always a man's job in Kurdistan, some members of the community still look at women driving as something shameful. She insists there's nothing shameful about her business and adds that her taxi service allows women to choose a career. "It doesn't matter if they have a college degree or not. They can train themselves, go to driving classes and have a job like other people".

Yako says that she wants women to know that there is a chance for society to change and that for women, things can only get better. They can have a better life and achieve gender equality in Kurdistan.
Keeping women safe in the U.K.
Women-owned and operated taxi services have been operating in the United Kingdom since 2005. Tina Dutton, wondered why there were no female taxi drivers in her town of Warrington, Cheshire, to offer women a safe means of transportation. "It sort of escalated from there," says Dutton, who eventually, with a partner, founded
Pink Ladies
in the United Kingdom.
Pink Ladies is not just a taxi service. It is a women's club that offers a variety of services to members, including safe transport.
"All the drivers that we have working for us embrace the concept," says Dutton. "They treat each passenger as they would their mother, their grandmother, their daughter." The company has instituted a "through the door policy," by which drivers do not simply drop riders off at a destination. They take it one step further to personally escort passengers to the door.
"It's definitely a niche market," says Dutton. Mothers feel safer going to work, knowing that their daughters will be picked up at school or dropped off at "grandma's house or an after-school club." The service has been especially helpful to women in the city's small Muslim community. "It's given them a little more independence."
The Club has done so well that Dutton is now planning to expand her business as far north as Scotland and to London, in the south. "It's very, very sad that the world has come to this," Dutton says. Females just don't feel safe "being alone in the car with a guy they don't know."
Multiculturalism in Germany
In Germany, though, sharing a car with people you don't know is what
Muslim Taxi
is all about. It's not a taxi service in the traditional sense, but rather a car-sharing service. Selim Reid is a young Muslim of Iraqi heritage who lives in the city of Norderstedt, near Hamberg.
He got the idea for the service in 2001, after his parents had undergone a bad experience using a regular car-sharing service, when two other passengers made derogatory comments about his mother's headscarf. Reid says he started up the business in order to help his parents and others in the Muslim community avoid that kind of discomfort when traveling.
However, not everyone is happy with the idea. Since its inception in December 2011, Reid says "Muslim Taxi" has been criticized by Muslims and non-Muslims alike.
"People are telling me I'm building a parallel society," says Reid. "We have changed the concept to offer a service for non-Muslims to participate."
He says the reason why there are so many negative reactions to Muslims is that society in general is "not informed about what Islam really is." Reid emphasizes that his service is a call for all people in his community to participate in the project. He says dialogue between Muslims and non-Muslims is key to understanding each other. "Talk about Islam. Talk about what you have in your heart", he adds, "We have to live together… we have no other choice."
Source:
voanews.com