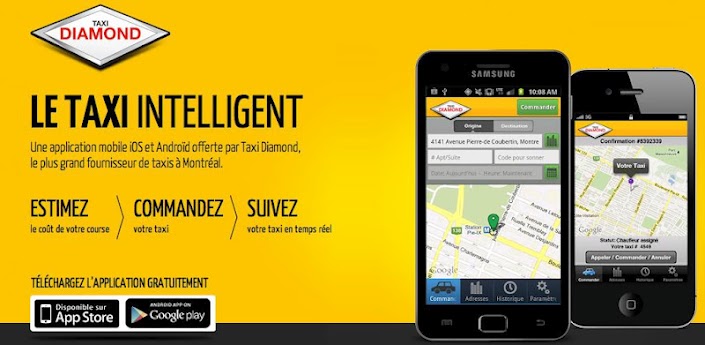 Diamond Taxi, the biggest cab provider in Montreal. Need a taxi in the city? In a hurry? Caught in the rain, in a snow storm, surprised by a metro outage? Can't find a cab in Montreal? Use the Taxi Diamond app to order a taxi directly from your phone, 24/7, in just 3 clicks!
The Taxi Diamond app is an application that makes it easy to order a taxi. The application geotags your position and suggests a pickup address. Once your order is confirmed, it is sent immediately to the closest Diamond cab.
With your phone, you can order your taxi in only 3 clicks, see the starting location of the cab and watch it approaching you on your screen in real time.
Customize your request by selecting a vehicle type (mini van or sedan) and method of payment (cash, coupon, credit card, Interac), and confirm your order.
If you enter your destination, an estimate of the cost of your trip will be displayed.
You can also book a taxi for a pickup later on.
You will receive an email confirmation of your order. Also, your order history for the last month is available in the app, helping control your expense account records.
Tailor the app to your personal needs by indicating your favorite locations (home, work, daycare, restaurant, etc.), or your preferred method of payment or vehicle type, and order in 3 clicks the closest Diamond cab that meets your needs.
Download the app today!
Order a taxi in Montreal in 3 clicks, 24/7
Payment by credit or debit card is available at all times
Book a cab in advance for a specific time
Trips are dispatched to the closest cab to your pickup address
Car number, pickup location and real time cab position are visible on the dispatch screen
By tracking the approach of your cab in real time, you can estimate time of arrival at your pickup address
Geolocation tool to determine pickup location of orders
Trip cost estimate tool
Address book saves your favorite locations
Email confirmation of trip orders
History feature to view the last month's trips
Options feature to permanently set method of payment, vehicle type & the taxi company you wish to use
Source:
play.google.com