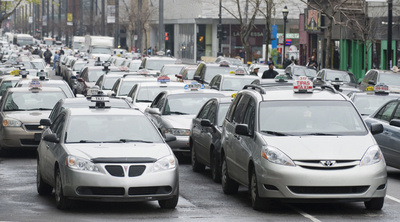 Nearly all of Montreal's taxi drivers have been stiffed for a fare.
A quarter of them have been robbed outright. Over an eight-year period ending in 2008, an average of 57 Montreal cab drivers were victims of aggravated theft, Montreal police say. According to Statistics Canada, taxi driving is the job with the highest risk of being murdered while at work, with a rate about twice that of police officers. No wonder more than half of this city's cab drivers say they feel unsafe on the job, according to a
2009 Montreal police survey
of taxi drivers. Many of them are unsafe.
They are certainly not alone; taxi driving carries risks everywhere. In Toronto, according to a taxi-drivers association, as many as 70 per cent of drivers feel they are in physical danger on the job, and more than half say they have been physically attacked. In London, according to the British department of transport, three drivers a year are killed on the job. Drivers said in a 2007 survey there that they feel increasingly under attack.
It will be up to Quebec's justice system to sort out what happened in Montreal during last weekend's confrontation between cab driver Guercy Edmond and a group of young men – an incident caught on videos posted on YouTube showing the men stomping his vehicle and Edmond driving over a 23-year-old man in what he said was an act of panic to save himself.
It's clear, however, that taxi driving is a dangerous occupation and that driver safety and security are questions with broad public importance and interest.
Several factors make cab driving dangerous: drivers work alone; they carry money; and their earnings are not high, which means they often accept passengers they might otherwise prefer not to.
In Montreal, the most dangerous time for cabbies is the hour after the bars close at 3 a.m., according to police. It was not a fluke that last weekend's incident took place on St. Laurent Blvd. close to 4 a.m., and that it involved young people who allegedly had been drinking heavily.
While there are risks for drivers in every city, Montreal cabbies are more physically vulnerable than in many other places. In this city, passengers sit behind drivers with nothing to separate them – unlike in New York or Toronto, where the norm is a Plexiglas window shield between driver and passengers.
Toronto cabbies can also turn on flashing "Call-911" lights to indicate that they need help. Similar lights are being installed on Montreal taxis, though a spokesman for the local taxi industry notes that the lights aren't visible in daytime.
Other potential safety options for taxis include in-cab closed-circuit television. In one British city, Sheffield, CCTV inside cabs led to a 72-per-cent reduction in incidents of threats and violence against drivers, according to the department of transport. However, the high cost of installing the cameras has worked as a deterrent to more widespread implementation. Sheffield city council paid $11,000 to put cameras in 33 cabs.
In 2009, Montreal driver Abraham Messun was stabbed by a passenger who was trying to rob him. Messun, who survived his injuries, did not have anything in his car that could have served as a protective measure. At the time, there were calls for public subsidies to help defray the costs of installing panic buttons and video security systems. (A spokesperson for a company that sells security systems for vehicles said a top-of-the-line system could run as high as $5,000.) But little has been heard on the taxi-security issue since then – until this past weekend's dreadful incident.
In contrast to cab drivers, bus drivers have benefitted from an $8.5-million investment by the Société de transport de Montréal in cameras and flashing security lights inside buses. With a much smaller passenger pool than public transit, the cab industry isn't likely to see the same kind of public investment in individual cabs. But that doesn't mean the issue of driver safety can be ignored.
There might well be a way of sharing costs so that the financial burden of installing safety features doesn't fall exclusively on drivers. Certainly an increase in fares to help cover the cost of improving driver security should not be out of the question; fares here are relatively low compared with other cities.
However the added costs are assigned, the taxi industry and government officials must try to find a solution. Taxis are an integral part of the city's transportation network, and those who operate them deserve to work in safety.
Source:
montrealgazette.com