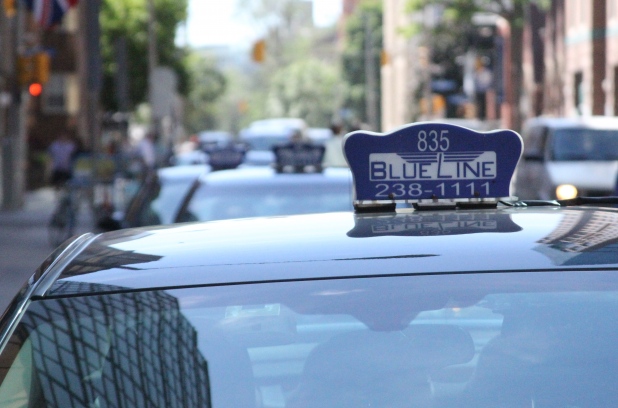 Two knife attacks have Ottawa cabbies on alert and asking for more protection in their cars. Metro/Graham Lanktree
Taxi drivers are saying it's high time for all Ottawa cab companies to move on installing glass barriers in their cars following two knife point stick-ups in Vanier in as many days.
"Cameras in our cars sometimes only catch one side of the person's face," said Adi Omar, who shares a car with the driver who was cut up in the second attack June 14. "We need windshields and companies need to install them now to make it more safe for drivers."
"A long time ago we were asking them to put shields up in the car, but we got cameras instead," said Biniam Abraham, who has been driving a taxi in Ottawa for the past 25 years. "Why would they want to catch a thief with a camera after I die, when it could be prevented?"
At 1:50 a.m. on June 13, police said a taxi picked up a Caucasian man in his early 20s with short hair on Rideau Street and was told to drive to Montreal Road. When they arrived, the fare pointed the driver to a side street and then held him up at knife point, cutting him on his finger before fleeing empty handed.
Just after midnight the following night, a second taxi picked up a man on Rideau Street and was asked to drive to Vanier as well. Once stopped off Montreal Road, the suspect made similar demands for cash, cut the driver's head and two of his fingers and escaped with an undisclosed amount of money in hand.
"Sometimes the night shift is is very dangerous," said Omar. "Drivers don't know who they're taking."
"We're safe in the day time," said Abraham. "We've all paid for our own camera in our cars and it's still not safe at night."
A representative of Blue Line taxi service said drivers could install windshields now if they wanted, but at their own expense, adding that he didn't know if that would change in the future.
Late Thursday afternoon police were asking taxi drivers to be wary and, in the even of a robbery, to give thieves what they want to lower their chance of injury.
Source:
metronews.ca