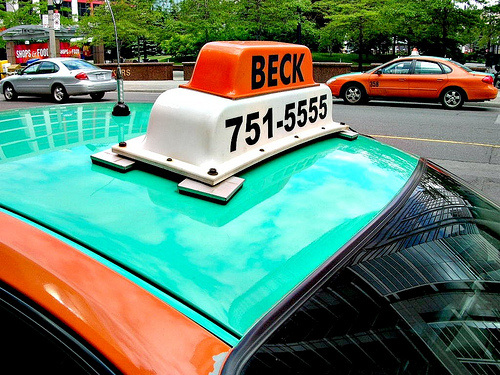 Mohammad Yousuf, a shift driver for Beck Taxi, works from 4:30 a.m. to 4:30 p.m. Seven days a week and brings home about $100 each day.
That's after he pays his fleet owner $65 for each shift and the gas to drive around the city.
The father of three, who can't afford to buy his own car, thinks Toronto cab prices — which hit users with a $4.25 charge the moment one enters a cab — are too high in this city compared to other major centres like New York or Chicago.
Everytime fares go up, Yousuf can set his watch by how quickly he loses business.
Add to this the high cost of insurance, gas prices, gridlock, the city's rabid parking officers (who harass drivers who even stop to visit the loo), not enough taxi stands, a two-tier system of cab licenses — plus unscrupulous agents who virtually hold drivers ransom — and it is very hard to make a buck.
"This is why taxi drivers work long hours," says Zahid Randhawa, a licensed mechanic and former taxi driver who operates a fleet of 50 cars out of Northstar Taxi.
Weren't the wave of 50 reforms that came from the 1998 Taxicab review — under the auspices of councillors Howard Moscoe and Denzil Minnan-Wong — supposed to solve all these problems?
That was the intention. But it never happened.
Granted, there are no longer crappy cabs on the road — all cabs must be no more than five years old – and customer service has improved.
But nothing much has changed from 14 years ago when too many middlemen were reaping the benefit of this multi-million-dollar industry, while cabbies pocketed peanuts.
That's why yet another review was launched late last year. After months of consultation, a preliminary report is due to be delivered to the licensing and standards committee in September.
As is often the case at City Hall, this has prompted some members of the Old Guard that helped create the mess to get their meathooks on the taxi file. The Moscoe-saurus was spotted rumbling around City Hall in April as a lobbyist for the union-backed iTaxiworkers Association.
Former councillor and short-lived mayoralty candidate Adam Giambrone was front and centre at an iTaxi rally in February.
Licensing and standards committee chairman Cesar Palacio says the city is "committed" to taking a "long overdue hard look" at the taxi industry that doesn't respond to "political pressures."
He says even though city officials had the "best intentions," what transpired in 1998 didn't work.
But he wouldn't go much further, saying no decisions will be made until the review is complete.
Still taxi industry officials are quick to pinpoint the often bloodsucking agents as a major problem.
These are people who manage one or a series of standard plates for owners — leasing them out to licensed drivers for as much as they can get, without a formal lease agreement.
In many cases, the agents operate as kind of pimps over what is known as a "paper fleet." They don't own or maintain any cars and essentially operate out of a briefcase collecting money from those who lease the 3.480 standard plates on the road.
Often. Because there is more of a demand to lease plates than actual plates available, they will demand key money of $5,000 to $10,000 from a driver wanting to lease a plate.
"Agents are not regulated ... They take value out of the industry," says Beck Taxi general manager Gail Beck-Souter. "We don't need them."
Instead of devaluing the license plates as was anticipated, the 1998 reforms did the exact opposite by creating a special class of drivers holding Ambassador licenses.
Ambassador drivers — of which there are 1,400 — own and operate their own cars but their plates have no value on the street.
In fact, when an Ambassador driver gets sick or must stop driving for any reason, he is not permitted to hire a back-up driver to man his vehicle. Ambassador licenses must be handed back to the city once they are no longer in use.
Souter says this has driven up the cost of a standard plate to as much as $300,000 from $70,000 before the 1998 reforms.
"The Ambassador license (program) was set up to fail," she says. "People are chained to their vehicles."
Randhawa says Ambassador drivers deserve to "get something back" — some equity in the business — after so many years of service to the public.
Both he and Souter believe the Ambassador license plates should be gradually transitioned back to standard plates and agents eliminated (or at the minimum better regulated) to ensure the industry isn't being bled dry by those who don't invest in it.
"We need to find a better way to put more money in the pockets of drivers," she says. "A lot of people who don't work in the industry take money out of it."
Sue-ann.levy@sunmedia.ca
Source:
torontosun.com