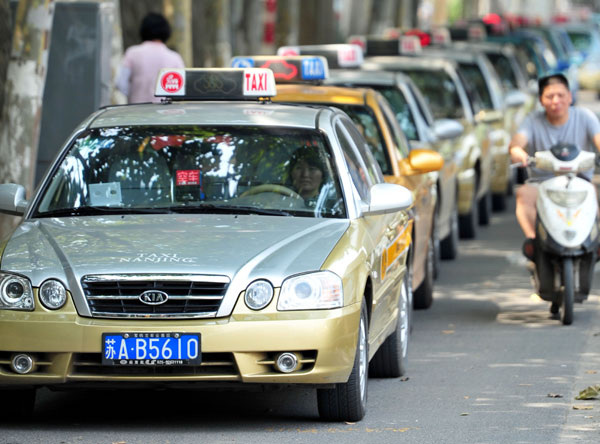 Taxis wait to refuel outside a natural-gas filling station in Nanjing, Jiangsu province. Wang Qiming / for China Daily
The news that almost all taxis in Nanjing have audio- and video-recording equipment has prompted discussion in the city about the public's right to privacy in the vehicles.
Zhao Zixuan, a Nanjing resident who goes to work in the city's Baixia district by taxi every day, said she had never noticed cameras or video devices in taxis.
"I was surprised when I was told of the recording devices, though later I saw that a notice on the back of the driver's seat tells passengers about them," Zhao said.
"But the writing is very small. I doubt if any passengers read it carefully," she said.
Zhao said that she understands the recording devices can help solve any disputes between passengers and drivers and are a big help to police.
However, "I'm afraid that other people may have access to the recordings, and that is a violation of our privacy", she said.
Of the city's 9,132 taxis, nearly 9,000 have cameras installed to take at least three pictures of each passenger. They also have audio equipment that continuously records.
The photos, video and audio recordings are transferred to the supervision centers of the city's public security bureau and the passenger transportation management office. The materials are stored for several months in case they are needed in investigations.
The devices were installed in 2010, according to Nanjing's passenger transportation management office. But most residents were unaware of them until Tuesday, when a local newspaper published a story about a taxi driver who solved a dispute by referring to his taxi's audio material. The driver was accused of touching a male passenger's leg, and the driver proved his innocence using the recording.
Wang Wei, a Nanjing taxi driver, has doubts about the equipment.
"The audio device is turned on 24 hours a day," Wang said.
"I don't want my chatting with my girlfriend to be recorded and stored by other people."
Nanjing's public security bureau declined to comment on the matter.
The city's passenger transportation management office said many disputes have been solved through the recording devices.
It also said the recorded materials are securely stored, and only the office and the public security bureau have access to them.
Passengers need to get a license to get the recordings to settle disputes, and, even then, the material must still be decoded by supervision centers.
Lu Jun, a lawyer at the Beijing Yirenping Center, a non-governmental organization that works for social justice, said the recording devices violate passengers' privacy.
"Taxis are different from other means of public transportation," Lu said. "They should respect passengers' privacy, and no pictures or voices should be recorded if passengers are not informed.
"If a passenger talks about business secrets, or if a man talks to his girlfriend, their words should not be recorded."
Zhao, the commuter, said, "I want audio announcements to be installed in taxis to inform passengers of the presence of the recording devices."
Source:
chinadaily.com.cn