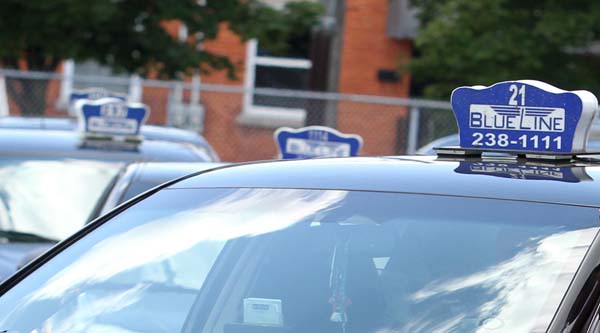 A woman heading home from work in downtown Ottawa on Tuesday says she was cut off by the same cab she heard about in a news story involving a texting cab driver — and that the man behind the wheel was busy tapping on his phone.
Madeleine Bélanger said Blueline taxi No. 85 cut her off on Elgin Street Monday afternoon as it crossed every lane of southbound traffic from the right-hand side to the left turning lane onto Laurier Avenue.
She had just heard a news report about a man driving Blueline taxi No. 85, who was fined $200 for
kicking two customers out of his cab on Sunday
.
The customers had asked him to stop texting.
After Bélanger said she was cut off on Tuesday, she honked at the cab and pulled up behind it in the turning lane to the Laurier Avenue bridge.
But instead of heading onto Laurier, Bélanger said the cab driver made a U-turn onto Elgin heading north.
And that's when she noticed something strange. Bélanger said the driver appeared to have difficulty making the turn.
"Because he's using his left hand and arm to make the turn, but in his right hand, he's tapping away at a phone," she said. "Texting or dialing numbers, I'm not quite sure, but I can see his thumb going while he's trying to negotiate that turn, and he's not very adept at doing it because he's only using one hand."
'It's dangerous for everyone concerned'Bélanger doesn't know whether the same man was driving the cab on Sunday and Tuesday, but she thinks it's a "lesson not learned."
It's dangerous for everyone concerned because he's obviously not paying attention to what's going on around him," she said.
Bélanger called the city's bylaw department to complain, but the allegations against the cabbie aren't regulated by bylaw.
But the head of the department said it plans to act, regardless.
"Based on the information she's provided, I probably will be setting up another interview with the driver just to go over the rules again so that he fully understands," said Linda Anderson, chief of bylaw and regulatory services. "In addition to that, I may contact the Ottawa police and see if there's anything they can do going forward.
"But it's early days in terms of me having all the information. I will have to speak to the driver as well."
Source:
c
bc.ca