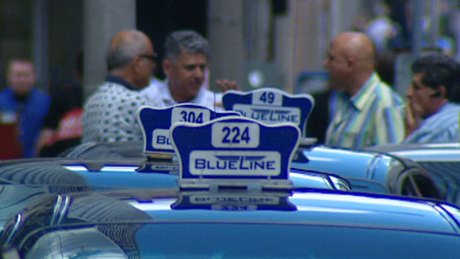 Passenger says his friend asked driver to stop texting while driving
A Blueline Taxi driver has been charged by the city's bylaw department after a man and his friend said they were kicked out of a cab when they asked him to stop texting while driving.
Brian Alkerton, 26, said he was riding with a friend on their way downtown after a concert at Bluesfest on Sunday night.
He said the driver was heading east along Slater Avenue at full speed, and texting while driving.
Alkerton said his friend asked the driver to stop texting, and that the driver pulled the cab over and told them both to get out.
"I've never been kicked out of a cab before," Alkerton said. "I was surprised that he wouldn't just put the cellphone away. We were about two minutes from where we were going, so it wasn't a huge deal. At least not to me, but I guess it was to him."
He made note of the vehicle number and said he'd call to complain. He said the driver appeared not to care.
Alkerton called the city's bylaw department to complain. A bylaw officer told him they'd be able to investigate the cab driver's conduct but not the texting itself, which is a police matter.
Linda Anderson, chief of bylaw and regulatory services, said the driver, Alkerton and his friend were interviewed Tuesday morning, and the driver was charged.
The charge carries a fine of $200.
Hanif Patni is president of Coventry Connections, the company that owns 17 taxi fleets in Ontario, including Blueline.
"Needless to say, its unacceptable," he said Tuesday. "We can't imagine that a driver would think that he has the ability of just telling a customer to get out of a cab if he is texting and the customer has asked him in a nice way that he shouldn't be texting."
"Most of our drivers, and we have close to 2,000 … are very well aware that you are not allowed to text," he said. "And that's not just a company rule, it's illegal to be texting, and they also know that they can only be speaking on cellphones when they're using a hands-free phone."
Alkerton said he's satisfied with the fine.
"That should be sufficient to hammer home the message that it's completely inappropriate for cabbies to be doing that."
Source:
cbc.ca