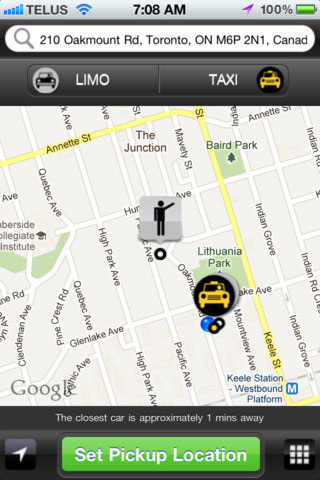 Toronto has yet another
new smart phone app
to help stranded urbanites find a ride.
Tap'n Ride,
the brainchild of
Rosedale Livery'
scurrent president,
Craig McCutcheon,
allows users to order either a limo or a regular-fare city taxi from their phone or web browser. (Since apps like
Winston
and
Uber
already allow those with significant expendable funds to order up luxury vehicles, we're betting that Tap'n Ride's taxi function will get the most play.)
The app is free, and unlike
Beck Taxi'
s iPhone app, it's peer-to-peer, meaning it eliminates the need for a call centre and dispatch. Users confirm their pick-up address directly with the driver by text and keep tabs on where the car is while they're waiting (approximately 10 minutes). At the end of the ride, it's charged to the on-file credit card registered during the initial sign-up.
Source:
torontolife.com