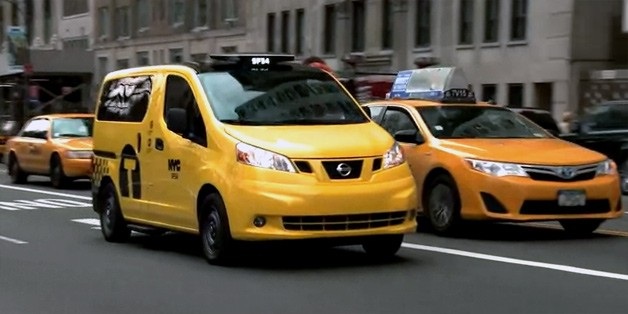 No matter where you go in
New York City
, yellow taxi cabs speckle the landscape, and the newly named
Taxi of Tomorrow
will certainly help continue this trend. After winning the bid to supply the Big Apple's iconic taxis,
Nissan
designers based in San Diego, California spent about a year coming up with the perfect shade of yellow to use on the
2014 Nissan NV200 Taxi
when it starts picking up NYC fares in October 2013.
As you can see in the image above, Nissan's yellow is much lighter than some of the other current NYC taxis which Francois Farion, of Nissan Color and Design Strategy, maintains makes the NV Taxi look fresher than existing hues that offer a more orange, aged look. In the video, Farion says Nissan explored going with a color other than yellow for its new NV200 Taxi, but it sounds like the governing body of New York cabs, the NYC Taxi and Limousine Commission, quickly put the kibosh on that idea.
Stuck with yellow, Nissan then looked to find a shade that took paint availability, ease of repair and cost into consideration to make sure the vans are easy to fix and keep up. One of the rejected yellows had more of a shimmer which would have made it more difficult (most likely being harder to blend or match) for cab companies to repair.
Source:
autoblog.com