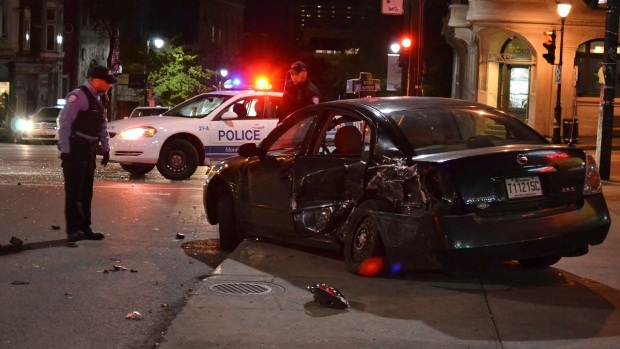 A taxi driver suffered minor injuries Tuesday morning during a hit and run collision.
The collision pushed the taxi onto the sidewalk and caused major damage to the driver's side of the car. The impact also ripped a municipal garbage can out of its moorings.
Around 3:30 a.m. a large SUV smashed into a taxi near the intersection of Sherbrooke St. and St. Laurent Blvd. The car that caused the crash fled the scene.
The 45-year-old taxi driver who was hit suffered minor injuries and was treated on site by paramedics. He did not need to go to the hospital.
If any passengers had been in the car it is likely they would have been hurt badly since the rear passenger door was crushed.
Police talking to the victim said the car that fled appeared to be a white Escalade that will likely have damage to its front end.
Source:
ctvnews.ca