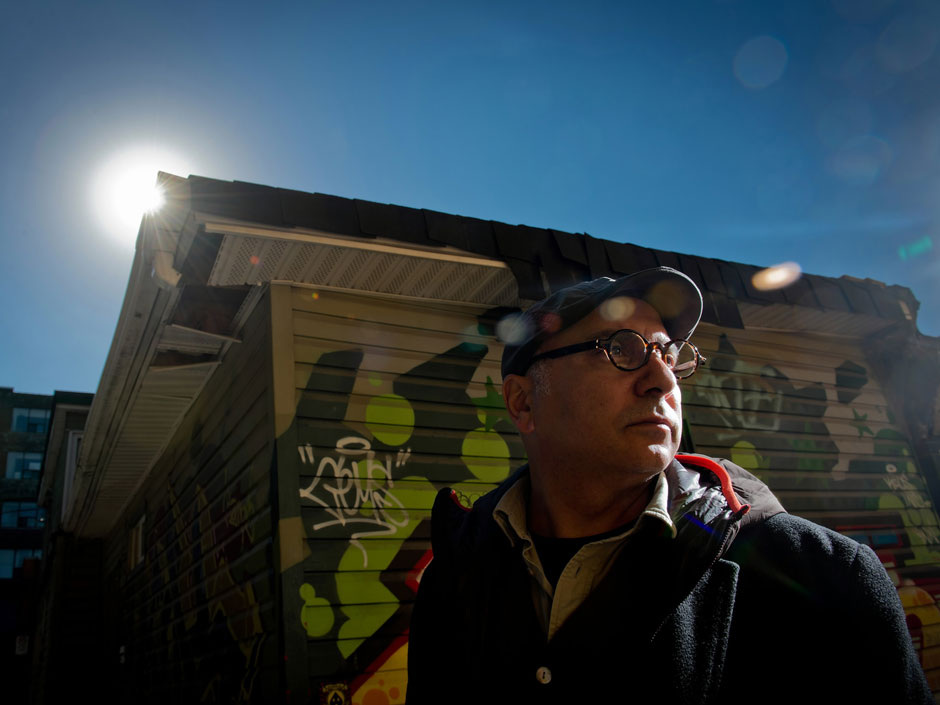 Like Carnival's cab-driving narrator, Fly, Rawi Hage would roam continually through the streets of Montreal, too restless to wait at taxi stands. Tyler Anderson/National Post
Rawi Hage's new novel, Carnival, features capitalists and revolutionaries, doctors and prostitutes, students and drug dealers, priests and circus freaks – and yet all people want to ask him about are the taxi drivers.

"It's my fault," the Montreal-based writer and former cabbie says. "I went and wrote a book about taxis. I thought I was being metaphorical about the whole issue, but I got stuck in this, and now I'm trying to fight it. I'm trying to convince people that there's an intellect in me."

He lets out a quiet laugh. Curled in a corner of a Toronto café over a double espresso, Hage, with his serious demeanour, round tortoise-shell glasses and flat cap, could be an off-duty professor. He drove a taxi in Montreal for more than two years, up until after his debut novel, De Niro's Game, was published in 2006. Like Carnival's cab-driving narrator, Fly, he would roam continually through the streets, too restless to wait at taxi stands.

Carnival is structured in five acts, like a play (and indeed most of its action happens in intimate spaces), but it's also episodic, like a road movie set within a city; Fly's many interactions with passengers and other drivers form the novel's loose plot. For Hage, taxi-driving ties in with "all that movement entails, from being marginal to being in exile to people who don't want to settle down, at the risk of losing some of their security in life." He himself is an exile, having left bomb-torn Beirut (where much of De Niro's Game is set) in 1984 for New York City. He moved to Montreal in the early '90s, where he studied fine arts.

For a while he worked as a photographer, which is "probably why I write in the first person. Much like in photography, I have to be present, portraying things. … When I'm [writing about] flying carpets, I imagine myself flying carpets."

In a touch of magic realism, Fly gives Carnival some levity: he uses a flying carpet in his apartment, lifting himself — literally and figuratively — above the squalor in which he lives. The protagonist of Hage's second novel, Cockroach (2008), in contrast, envisions himself crawling through the dank crevices of a dark, near-dystopian Montreal. Where Hage's first two books were "harder to write, in terms of emotion," he says the comic relief in Carnival "gave me energy to keep on going. "Whoever is writing satire must be having some fun, or it will never work." Indeed, Fly's absurdist point of view enables Hage to skewer religious fundamentalism and dubious political ideology. He confesses to worries about the erosion of Canada's multicultural project and its "egalitarian society in terms of providing education. … I went to school here; all these social benefits allowed me to become something else. But now I see there's an attack on these values."

Nonetheless, Carnival doesn't offer a project for resistance, nor does Hage seek to make any kind of definitive statement. When being interviewed, he's wary, at one point smirking, "You want me to commit to something, don't you? … I don't have answers. I don't have a grand morality, but at the same time, I'm not a postmodernist who plays games. I think of Fly as a special person who [can't] find the right solution yet."

It's clear Hage enjoys intellectual sparring – he must have been an ideal driver for chatty passengers. The taxi, he says, is "a chamber of wonder," which offers "very intense moments where there's a lot of lying, a lot of 'agreement' when you don't agree, a lot of sincere conversations you'd never have with somebody you'll see twice."

Alas, he says, "Sometimes you have the most intimate, beautiful conversation with a person, and then when it comes to paying, it becomes a problem."

In Carnival, Fly always gets paid, but Hage himself wasn't so lucky: he remembers, for instance, being harassed at a bar where he drove a prostitute who stiffed him on his fare. Thankfully now, he has some measure of security, especially as De Niro's Game won the €100,000 ($130,0000) IMPAC Dublin Literary Award. And yet, recently he renewed his taxi driver's licence.

"I don't know why I did it," he says with a smile, "but I figured I'd do it."

It would be unlike Hage to want to close off any avenue. "I don't have a singular or homogeneous life," he says. "There's a multiplicity in me, and it's devastating but it's enriching sometimes. I've experienced class from middle class to poverty to wealth, and sometimes I think it was a natural thing for me to become a writer – it fell in my lap. … You have to be in the world too. I have this big baggage that I can always fall upon."

• Carnival by Rawi Hage is published by House of Anansi Press ($29.95). Hage appears at Toronto's International Festival of Authors on Oct. 24 and Oct. 27. For details, visit readings.org.