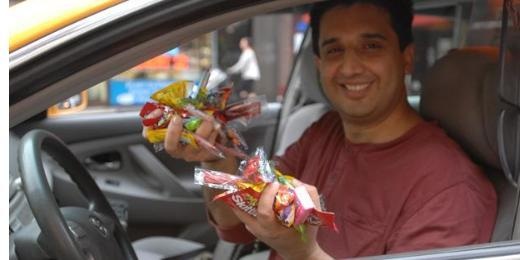 As Halloween approaches, you can expect to be bombarded with sweets on all fronts — in class, at home, in Duane Reade. Now, you can add an unexpected place to your list of confectioneries: the taxi cab.
Known as the Candy Cab (No affiliation with the Cash Cab — yet), this taxi's rear window is packed with piles of Laffy Taffy, Skittles and Starburst. If you're lucky enough to hail the cab, you can grab a treat to take with you or enjoy while watching Taxi TV.
Of course, some may be wary of taking candy from their cab driver. There is, after all, an old saying about strangers and candy. And most New Yorkers will avoid eating in subways and cabs. Who knows
which germs
you're picking up in there?
With the Candy Cab, though, riders have good reason to eat without worry. Monsoor Khalid, who drives the cab, was inspired to dish out the sweets after his two-year-old son passed away from heart disease. When Khalid's son was in the hospital, he would bring the overnight nurses coffee and desserts, and saw how happy it made them.
"They got so happy when in the middle of the night I gave every person coffee," Khalid tells the
Daily News
. "I was so nice to them and they were so nice to me." Khalid soon imagined he could sweeten up the lives of his passengers like he had for those who had helped his son.
Like many mobile food vendors, the Candy Cab is on social media. You can follow the Candy Cab at
@CandyCabNYC
, where Khalid talks about passengers, the city and, of course, candy. Watching Khalid
tweet
about the joys of giving strangers candy is a treat in itself:
"Whenever they seen piles of candies and chocolates , they get crazy, some of them even scream, very loudly laughs, ohhh i loved it. One couple around 40s ,she was crying and laughing, her husband was keep laughing. She was keep asking its real, i was keep saying her it is. I said to them Guyz, just attack on candies. Everybody was saying to me, you make our day. When i hear that, i get so so happy."
Source::
nyulocal.com