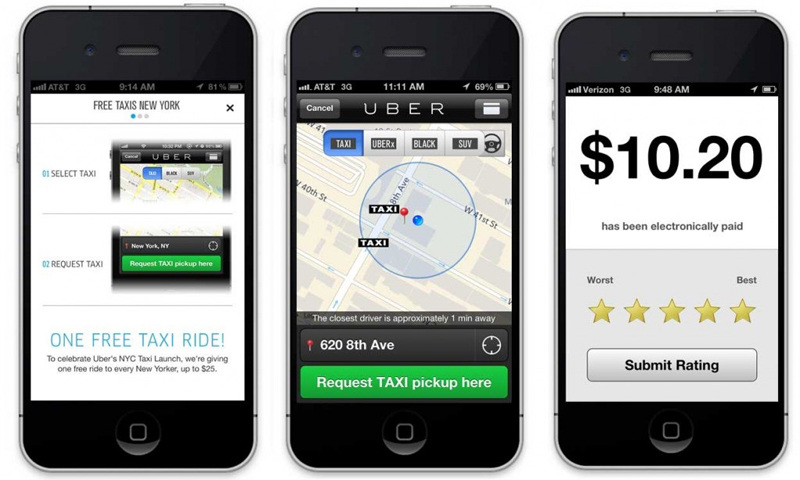 Just a day after suspending its taxi-hailing app in New York City, Uber
announced
it is bringing the service to San Francisco.
Users in the City by the Bay will now be able to request a taxi via the Uber app, which is available for iOS and Android devices. The new feature will join Uber's existing sedan and SUV-hailing options in San Francisco.
"Uber is all about a convenient and efficient ride," Matt Hearns, community manager for Uber San Francisco, wrote in a blog post Wednesday. "Some folks might have a tough time describing San Francisco taxis in such terms. Uber SF would like to do something about that."
The new feature will be rolling out gradually in San Francisco, beginning today. It works like this — users simply plug their location, request a cab, and drivers in the area will respond. At the end of a customer's ride, the driver will input the fare on the meter into their Uber iPhone app, along with a 20 percent gratuity and $1 booking fee. The total will then be charged to the user's credit card.
Uber personally interviews every taxi driver who uses its system, and keeps a record of their name, phone number, and copies of their taxi cards. Users can rate the taxi driver at the end of the trip, allowing the company to "separate the diamonds from the rough over time."
Uber warned that this "is a bit of an experiment for our users" and will be not a magic solution to San Francisco's taxi-hailing woes. There are only about 1,500 medallions that allow taxis to operate in all of San Francisco, and Uber can't change that.
"It'll still be tough to get taxi drivers to come pick you up during peak demand times (like Friday and Saturday nights or Halloween), but Uber Black [which lets users reserve a black sedan or SUV] will always have you covered if you can't get a cab," Hearns wrote.
Just days ago,
Uber ended its NYC taxi beta
due to challenges from the city's Taxi and Limousine Commission, despite overwhelming demand. Uber will still offer its
Uber Black service
and Uberx for mid-range cars, in New York.
Source:
pcmag.com