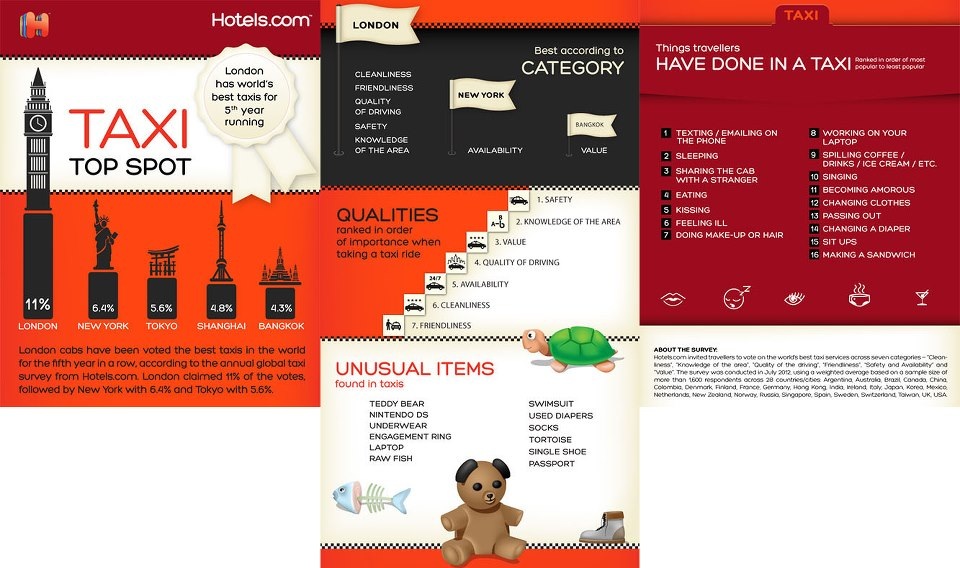 TORONTO – The best taxis in Canada are in Vancouver, according to the results of a poll released Thursday by travel website hotels.com.
For the fifth year in a row, cabs in London, England ranked No. 1 in the world, followed by New York City and Tokyo.
Vancouver earned the 33rd spot on the list, beating Toronto (at No. 37) and Montreal (at No. 48). They were the only Canadian cities included in the poll, which was sent to 1,671 subscribers in 28 countries.
According to the survey, customers are looking for safe cabs with drivers who know where they are going. Value, quality of driving, and availability are also important qualities.
The poll also reveals the most unusual items left behind in cabs by passengers. The list includes raw fish, used diapers, a single shoe and a tortoise. In Canada, the strangest items left in taxis are passports, sex toys and lubricant.
These items beg the question: what are people doing in the back of cabs?According to the survey, the five most common things are texting/emailing, sleeping, sharing with a stranger, eating and kissing – but getting frisky ranks No. 11.
Australians spend the most on cabs while Italians use cabs the least. Fifteen per cent of all respondents said they don't tip the driver.
Source:
globaltvbc.com