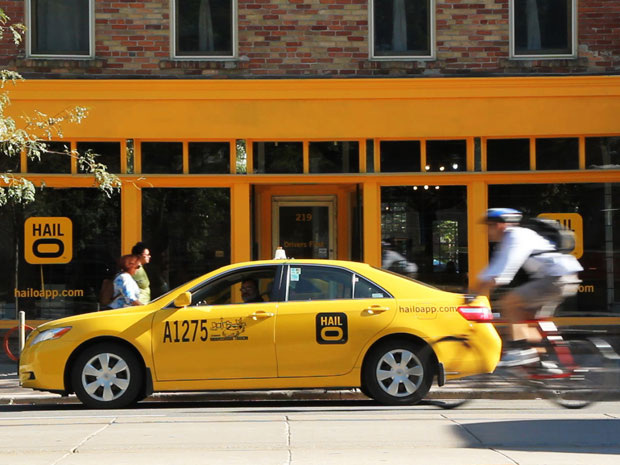 Hailo Network Holdings was the first app-based company to get a taxi brokerage licence in Toronto. But it has come into conflict with established taxi brokerage Beck Taxi over the use of its app by Beck drivers.Handout/Hailo
In Washington, D.C., the taxi commission recently proposed new rules that would block Uber's sedan business and the company was forced to shut down a trial taxi service in New York City in October.
In Toronto, the city's Municipal Licensing and Standards division has investigated Uber — which arranges rides for its clients through a mobile app installed on both customer and driver smartphones — for failing to register as either a limousine or taxi brokerage.
Andrew Macdonald, general manager of Uber's Toronto office, maintains that the company offers a technology service not covered by current bylaws.
"We're in ongoing discussions with the city. I don't think anyone wants to see this play out in the courts," he said. "Our view is that we're bringing a technology to the table, engaging and partnering with drivers who are already licensed for business in the City of Toronto."
The city doesn't share his view. In August it laid charges against Uber for breaches of the Municipal Code related to its failure to get a limousine brokerage licence. The case is due back in court in January.
Bruce Robertson, director of licensing for the City of Toronto, said his department is still investigating Uber's taxi service, which launched in September and will take enforcement action related to that business as well.
"The city's position is simply it's just a different way of people contacting a service. So a licence is required, because they're arranging service between the public and somebody," Mr. Robertson said.
Clashes pitting entrepreneurs touting new technology against regulators and traditional taxi and limousine fleets are not unprecedented in the transportation world, said Joshua Gans, chair of technical innovation and entrepreneurship at the Rotman School of Management.
"You can go back all the way to the introduction of the automobile and we had similar issues way back then. All manner of people tried to put restrictions on cars," he said. "This happens time and time again. It's very hard to change these sorts of industries."
"Uber have taken this view that they can't just apply to the regulatory offices and say, 'Can you change decades of protection of the taxicab industry?' " Mr. Gans said.
"Their strategy has been instead to basically enter, do stuff that looks like it's within the letter of the law — although there might be some ambiguity — and the consumers will love it and so when the inevitable backlash comes from the taxi lobby, the politicians will listen because the consumers really want it."
Other technology developers have taken a more conciliatory approach with both the taxi industry and the city.
Toronto-based Winston Inc. first tried to compete with a cab-hailing app of its own before deciding to use its technology to build "white-label" apps for existing taxi fleets, landing Toronto's Diamond Taxicab Association Ltd. as its first major client.
Co-founder and chief executive Aidan Nulman said part of the reason for the switch was that he felt the new services weren't improving things for the drivers, who pay a fee to Uber or other app companies used to get fares.
"You're replacing part of the infrastructure with something that's only marginally better," he said.
U.K.-based Hailo Network Holdings Ltd. meanwhile, was the first app-based company to get a taxi brokerage licence in Toronto.
But it has come into conflict with established taxi brokerage Beck Taxi, which Hailo Network Canada Inc. president Justin Raymond alleges has been instructing drivers of Beck branded cabs not to use the app, a complaint he has brought to the city.
Kristine Hubbard is operations manager at Beck, which works with 3,500 drivers in 1,700 cars branded with its orange and green colours.
Asked whether she would demand Beck drivers not use Hailo, she said, "I think I would pose it as a question: 'Are you making more money? Is this something that's in your best interest?'"
"The allegation that we've been threatening or bullying is just so opposite of the truth."
The city is investigating Hailo's complaints about specific incidents but Mr. Robertson said, "We have not determined that there's been any violation of a bylaw. Until we do, we won't take action."
He added that the bylaw is silent on the issue of drivers working for more than one brokerage.
Beck itself is embracing technology, with an in-house iPhone app it launched in May, allowing users to hail a taxi to their location using the GPS in their phone. Unlike Uber and Hailo, the calls go through Beck's existing dispatch system in the order they are received and not to a driver's smartphone.
"I'm not afraid of competition; I encourage competition," Ms. Hubbard said. "No one wants to be the only game in town."
Mr. Gans said Uber in particular is putting the issue of technology in the taxi and limousine industry on the agenda and "really pushing that."
"The problem for Uber is that it's also pushing that for any of its follower competitors as well," he said. "But Uber are betting on the fact that they will be first, they will be known for what they've done and so they will have a better position in the market as a result."
Neither Uber nor Hailo will share their user figures, but both say customer reception has been good, while Ms. Hubbard said 30,000 users have downloaded Beck's app and the brokerage gets 800 orders a day on average.
As the jockeying for space on the home screen of every Torontonian's smartphone continues, Mr. Robertson noted that none of the complaints the city has received have been from the public. Rather, they have all come from licensed participants with a stake in the industry.
"It's a new way to obtain service but it's still only a slice of the world out there that uses cabs that uses these apps," he said.
Source:
financialpost.com