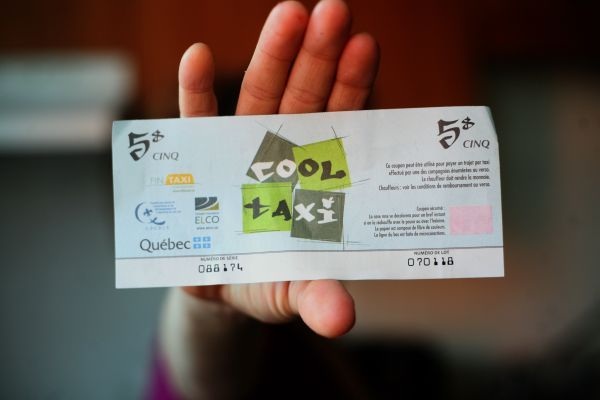 MONTREAL—Drunk driving tends to spike during the holiday party season. Two years ago, an accident caused by a drunk driver put three teenagers in hospital. Claudia Di Iorio was one of them; it left her in a coma for a month.
She looks better now, but still suffers lingering effects from her head trauma.
There are ways to avoid getting behind the wheel of a car. One of them is Cool Taxi coupons. Di Iorio's near-death experience inspired the program and she was out spreading a very important message on Friday.
She was giving out cool taxi coupons at various bars in the south shore. They work like cash but they could only be used for cab fare. Her father was one of the founders of Cool Taxi.
He says he was inspired to do something after his daughter's accident and he encourages parents to buy them for their teenagers, to give them the power not to get into a car if the driver has been drinking.
"It's a gift when they use it and it's when they look back on their evening that this person cared so much about me it was able to come back," said Claudia Di Iorio.
Police say initiatives like this help curb impaired driving—over $2 million worth of Cool Taxi coupons have been sold.
"Cool Taxi is an especially good alternative because the tickets that you have in your pocket, you cannot use them in the bar to purchase other alcohol," said Dominic Arseneau of the Longueuil police.
The $5 and $10 coupons can be used all year long.
"We're there 12 months a year, we're there all the time so taxi driving we feel is the best way or a very interesting way to save lives," said Andre Martel of the Quebec Taxi Owners Association.
Di Iorio hopes others can learn from her story.
"To have fun, to be happy, but to be safe and to think before acting," said Di Iorio.
Source:
http://montreal.ctvnews.ca