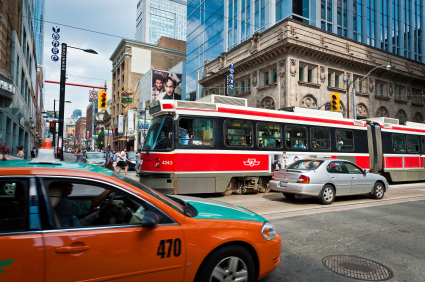 A decision by a major underwriter to stop offering commercial auto insurance to some taxi drivers in Ontario, and concern from cabbies about rising premiums, has prompted the Insurance Bureau of Canada to discuss the matter with the Financial Services Commission of Ontario and to survey carriers.
Ontario Finance Minister Charles Sousa is also promising to look into it.
Published reports indicate Arch Insurance Group Inc. of New York City notified the Taxi and Limousine Drivers Association it would no longer renew coverage after Jan. 1.
"We've heard that there's a challenge in terms of availability," said Pete Karageorgos, IBC's manager of consumer and industry relations for Ontario. "IBC has had some discussions with FSCO on the issue and we will continue to have discussions to try and understand what is at the core of this."
In the Ontario legislature last week, Paul Miller, the New Democratic Party MPP for Hamilton East-Stoney Creek, expressed concern some Hamilton cabbies' rates have jumped from $5,000 to $18,000 a year. Miller asked Sousa during Question Period at Queen's Park if Sousa would direct FSCO to launch an investigation.
"My impression is it's not something that's exclusive to Hamilton; it's probably right across the urban centres of Ontario," Sousa said. "There are issues, and I have spoken to a number of limousine and taxi companies. They recognize the input costs are at times prohibitive .... I am looking into it and ... I will commit to delving into your particular issue specifically."
Karageorgos said IBC has started a survey of carriers "to see what market exists" for providing commercial auto coverage to taxi operators.
"It's unfortunate that there has been an exit of a large underwriter of taxis in the market which has caused a further squeeze of availability, but it's indicative, I think, of the fact that auto insurance, whether it's commercial or private passenger, is still facing cost pressures," he said.
Karageorgos added he read one article quoting a source as saying the rate increases are not surprising because taxis are on the road in many cases almost 24 hours a day, some drivers have abstracts which "may not be as good as the general population" and, according to the article, there are more bodily injury claims due in part to collisions involving pedestrians and cyclists.
"There seem to be a lot of cost pressures based on that report," Karageorgos said. "How valid it is, there's some work that needs to be done to get a good handle on the situation."
Karageorgos suggested a shortage of insurance carriers coverage taxis is a public policy concern.
"You don't want any cabs out there operating without insurance and obviously in terms of affordability for some of these folks, it really is challenging," he said
Source:
canadianunderwriter.ca