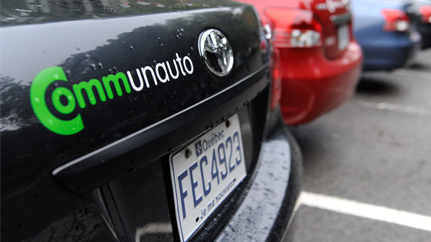 Communauto parking at the corner of Cherrier Street and Avenue Parc Lafontaine in Montreal Credits: SEBASTIEN ST-JEAN/QMI AGENCY
MONTREAL - Montreal's bike sharing service was a big hit, so now officials are talking about car-sharing, an idea that has the taxi industry fuming.The city's executive committee unveiled a plan this week that would allow users to pick up and drop off publicly-owned cars anywhere within city limits.
Drivers would not have to return the car to its original station.
Dory Saliba, president of a provincial cabbies's association, used vivid language in panning the self-serve car plan.
"If a project like this happens, you'll put a bullet in the head of the taxi industry in Montreal," he said, adding that the city doesn't care about cabbies.
"The city knows that this is a problem," Saliba said. "Why are they arguing for such a project if they know it's bad for the industry?"
Executive committee member Real Menard admits a car-sharing system would have an impact on the taxi industry but he says they'll will be invited to upcoming public consultations.
While cabbies are cold to car-sharing, the city believes such a program might gain traction among Montrealers in an era of high gas prices.
A privately-run program, Communauto, operates on annual membership fees and users must return the cars to their original location. Menard says he wants to see a program with more flexibility.
Communauto and a second, privately-run car-sharing service, have expressed an interest in teaming up with Montreal to get the project up and running.
BIXI, the city's public bicycle rental service, launched in 2009 and has since expanded to Toronto, Ottawa, Boston and London, England.
Source:
sunnewsnetwork.ca