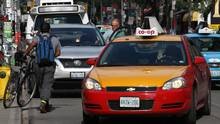 The city of Toronto's licensing and standards committee has agreed to look into whether taxi drivers should be protected by shields.
The committee met Thursday at city hall and voted in favour of having staff report back on the measure.
Councillor Cesar Palacio, the committee's chair, moved the motion because he said violent altercations put taxi drivers in serious danger.
He said the city, as the industry regulator, must ensure drivers and the public are protected. He said case studies have shown shields reduce violence against drivers by more than 50 per cent, even though some might deem the barriers unsightly or unnecessary.
The executive director of municipal licensing and standards will also undertake a consultation process with drivers to gauge support for the shields. The recommendations are part of the city's taxi industry review, the report for which is expected in mid-2013.
Kristine Hubbard, operations manager at Beck Taxi, was at city hall for the committee meeting. In an interview after she said the company will support anything that keeps drivers safe, though a shield is not the perfect solution because a lot of problems occur outside the vehicle. She said some drivers simply don't want them.
Councillor Glenn De Baeremaeker moved a separate motion that called on staff to report back in September on ways to keep the public safe from violent drivers.
That report will consider whether staff should have the authority to immediately suspend a driver's license if it's in the public interest. The report will also consider whether the right to appeal such a suspension should be eliminated in cases in which a driver has been linked to sex offences, assault, robbery, or terrorism, among other offences.
Ms. Hubbard said she was surprised by the motion and doesn't know if it's even possible, given people generally have the right to appeal.
Source:
theglobeandmail.com