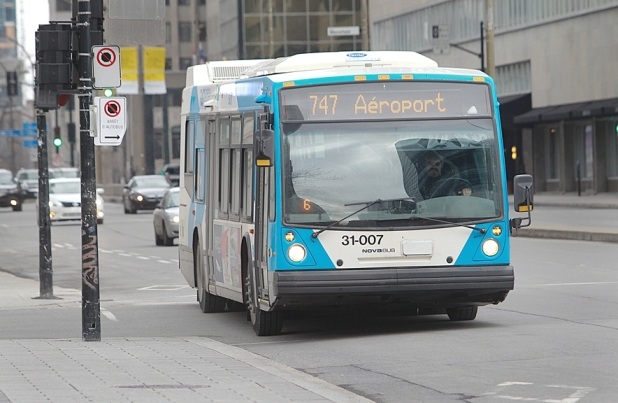 eplacing the 747 airport shuttle bus with subsidized "collective taxis" would quadruple costs, exacerbate traffic on Highway 20 and the Ville Marie Expressway and increase gas emissions, Montreal's transit authority says. Photograph by: Marie-France Coallier , The Gazette
MONTREAL — Replacing the 747 airport express bus with "collective taxis" would quadruple costs, exacerbate traffic, and increase greenhouse gas emissions, Montreal's transit authority says.
But Louise Harel's Vision Montreal party says collective taxis might still be a viable alternative to the 747 during non-peak periods.
It costs $2.86 per passenger to provide 747 bus service during rush hour. That figure would jump to $13.71 per passenger if taxis were used instead of buses.
The 747 has been a sore point for the taxi industry since the service was launched in 2010 to shuttle passengers between downtown Montreal and Trudeau Airport. Since then, the 747 has ferried more than 3 million passengers.
The figures are in a document the
Société de transport de Montréal
prepared for Réal Ménard, the city executive committee member responsible for transport. In an interview, Ménard said he asked for the study after questions were raised about the 747's cost-effectiveness and its impact on taxi ridership.
The STM analysis shows taxi ridership has risen even as the 747 has proven highly popular, said Ménard, who is also the Vision Montreal borough mayor of Mercier-Hochelaga-Maisonneuve.
"This document shows replacing the 747 with collective taxis can't be justified," he said. "It's very well used and it's used by many employees going to the airport."
But his party, Vision Montreal, still thinks STM-coordinated collective taxis for airport users could work.
"This (STM) study doesn't give (ridership numbers or cost estimates) for the entire day," said Vision spokesperson Olivier Lapierre. It's possible that at non-peak times, running buses is not cost-effective, he said.
The 747 operates 24 hours a day, seven days a week.
"We think collective taxis could be complementary to the 747," Lapierre said.
The STM already runs a collective taxi network to provide transport in areas where there is not enough ridership to warrant bus service.
Collective taxis are available in parts of the West Island and other areas of Montreal. Passengers call to reserve a spot and pay for rides using an Opus card or other type of fare card.
The STM spends $400,000 per year on collective taxis.
"The hypothesis of replacing the 747 with a collective taxi service appears to us to be not viable," the STM says in the document.
Almost "4,000 trips per day, on average, is too much for collective taxis. It would be four times more expensive and would increase car traffic on already-congested (Highway 20 and the Ville Marie Expressway) and (increase) greenhouse gas emissions."
It would take 12 taxis to replace one 747 bus, according to the STM.
Last year, 1.3 million rides were taken on the 747, a 12-per-cent jump over 2011.
On average, it shuttled 3,562 people daily last year, with its highest ridership ever — 5,600 per day — in August 2012.
"The business case for the 747 bus speaks for itself — the bus has been a huge success," Marvin Rotrand, vice-chair of the STM, said in an interview. "It's a service that's normal in a big city and it's cost-effective."
And the 747 has not negatively impacted taxis, he said. "There's still a demand for taxis at the airport."
Using figures from Montreal's airport authority, the STM says taxi trips to the airport increased in 2011 and 2012, matching an increase in airport passenger traffic.
There was marked dip in airport taxi usage in 2009 and 2010, but the STM says that was due to the economic downturn, not the 747, which started in March 2010.
Buses travel between the inter-city downtown bus station (the Gare d'autocars de Montréal) on Berri St. and Trudeau Airport. The bus has 10 downtown stops, as well one at the Lionel-Groulx métro station. Most 747 buses offer free wireless Internet.
Vision Montreal is also pushing the STM to introduce collective taxis in parts of the city where it would be too expensive to add bus service, including Pierrefonds and Rivière-des-Prairies–Pointe-aux-Trembles.
In a 2010 brief about the taxi industry, Vision said the STM requires a minimum of 25 passengers per hour of service to launch a new bus line, and it costs about $100 per hour to operate a bus route.
Vision said it costs the STM $32 to $34 per hour to provide collective taxi service.
Source:
montrealgazette.com