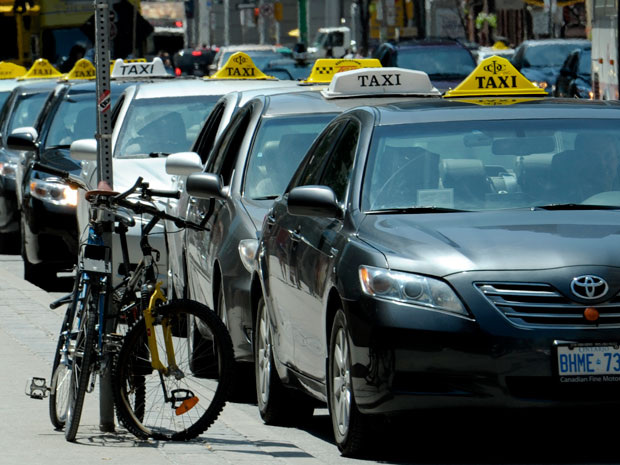 City staff are proposing a slew of reforms to Toronto's taxicab industry, including the elimination of a two-tiered licensing system that has been a source of bitterness among some drivers.Tyler Anderson / National Post file
City staff are proposing a slew of reforms to Toronto's taxicab industry, including the elimination of a two-tiered licensing system that has been a source of bitterness among some drivers.
In total, 44 recommendations are contained in a report before the licensing and standards committee aimed at improving the experience for passengers and cabbies.
The "Framework for Change" will form the basis of consultation over the summer, before final proposals are tabled.
The key changes include moving to a 100% wheelchair accessible taxicab fleet over the long term, transitioning the industry to one type of license, and requiring new taxi cabs owners to drive their own cars. The review also suggests keeping the same number of cabs on the street and issuing new licenses based on how long it takes passengers to get a cab.
There are almost 5,000 licensed taxis in the city of Toronto, making more than 65,000 daily trips. The city estimates the business generates about $1.5-billion through fares every day. About two thirds of all licenses are known as Standard plates. A Standard owner can enlist someone, or hire an agent to enlist someone, to drive the car. Standard plates are transferrable and worth over $200,000.
By contrast, the Ambassador plates, created in response to earlier issues in the industry, are not transferrable and have no market value. The license owner is the only person who can drive the cab, leading to complaints that drivers are forced to pull long shifts to make ends meet. There are 1,315 Ambassador licenses. There are also about 85 Accessible taxi licenses that are also not transferrable.
Staff propose creating a new Toronto Taxicab License, which would replace Standard, Ambassador and Accessible licenses as they are sold. The new license would be transferrable, but would only be granted to a wheelchair accessible vehicle. In addition, the owner would have to drive it full time, although he or she could rent out a second shift.
In the meantime, the city proposes changing the current rules, so that Ambassador owners can enlist secondary drivers and transfer their plates. Standard drivers would operate under the same conditions, but they would have fewer options for relinquishing operation of their cars.
Councillor Denzil Minnan-Wong, who championed earlier reforms, hailed the new proposals, arguing they put passengers first.
"The big win for consumers is that owner operator aspect," said Mr. Minnan-Wong.
He said data has shown vehicles to be cleaner and in better shape when the person who owns it is behind the wheel. He said moving towards a 100% wheelchair accessible fleet is another "huge win" for the city.
"I think you are going to see a lot more accessible vehicles on the road a lot faster," he said.
Currently, 3.5% of taxi cabs are wheelchair accessible in Toronto.
Those in the industry seem divided on whether or not the report is a step in the right direction.
Sajid Nughal, president of the iTaxiworkers Association, said the report "should fix most if not all of the industry's problems."
Mr. Nughal said the report was balanced and he expects drivers will like it.
Kristine Hubbard, operations manager at Beck Taxi, sees the proposed changes differently.
"It's pretty disappointing," she said. "[Drivers] are in the exact same position they've been in."
She said the report failed to address key issues such as the need for the removal of agents who act as go-betweens for license holders and drivers in the Standard licensing process. Ms. Hubbard also said she doesn't think 100% of fleets to be wheelchair accessible and that these vehicles are expensive.
"This is a recipe for no interest in this business," Ms. Hubbard said. "These guys who are raising their families and putting their kids through school… able to make a living now, will not be able to do that."
She said the system needs to be simplified and this report is just another example of the city being out of touch with the taxi cab industry.
Source:
nationalpost.com