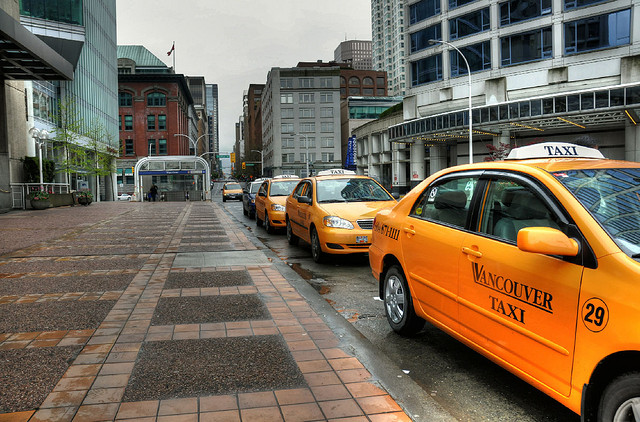 Those of us lucky enough to have sampled the nightlife in New York, London, Paris or Montreal know the pleasures of being able to eat, drink and make merry, then stick up a hand at the curb and have a taxi available when we want it. Not always, of course, but with such certainty as to make uptown merriment a way of life.
Those of us unlucky enough to sample daily life in Metro, let alone the fun side of downtown, know the dispiriting experience of calling to book a cab and then waiting for 45 minutes while laden with the grocery sacks that preclude the eight-block walk home when it's raining. Or the inability to find a cab that will take one from downtown to home in the suburbs when a night of clubbing runs beyond the last transit service.
Proponents of free market theory will argue that the quick fix is to deregulate access for new drivers to a historically regulated market in which the value of strictly controlled licences has inflated while the number of taxis available to consumers sits at about 650 at peak demand with all regular and temporary units in operation. This compares, for example, to the almost 4,500 taxis on call in Montreal, the 15,000 in Paris and the 24,000 in London. In theory, greater supply should result in price competition and lower prices should stimulate demand so that increasing trip volumes offset lower prices for operators. In theory, it's a win-win situation - lower prices for passengers, but more rides and revenue for operators.
Proponents of the regulated market status quo will point to the perils of deregulation of access in which there's a combination of oversupply which drives down profit margins and an accompanying deterioration of service quality, vehicle standards and driver competence that reduces demand. So it's a lose-lose situation. Operators earn less and consumers deal with poor service. And they will note, rightly, the incongruity of comparing London with its eight million inhabitants, or Montreal with its 1.6 million, to Vancouver with its 600,000 plus.
There are merits to both arguments and equally substantial downsides. As Sun reporter Jeff Lee's story about the Vancouver taxi market observed last weekend, Seattle first deregulated its taxi market, then stepped in to reregulate the shambles that followed.
On the other hand, there's been a wave of taxi deregulation in European countries.
One study of the effects of entry regulation and deregulation on taxi availability and service in 43 cities in the U.S. and Canada concluded that entry controls have different effects on different kinds of service. Deregulating controls leads to an oversupply of cabs and deteriorating vehicle and driver quality in the taxi stand and street hail market.
But regulating entry leads to poor taxicab availability. And price competition has its own problems - while prices may fall, hunting through the operators at a taxi stand in search of the cheapest fare is not the same as choosing between differently priced brands in a retail setting, one researcher points out. Flexible approaches to both rather than ideologically motivated swings in policy are the recommended solution.
Another Organization of Economic Development and Cooperation study of deregulation in European countries concluded that while the case for regulating entry to the taxi market has been overstated by proponents, so has the case for deregulation. In countries where entry was deregulated, waiting times for consumers were substantially reduced. But price deregulation doesn't necessarily cause prices to fall - in many cases it causes them to rise. So, concluded the OECD, price regulation remains necessary to protect consumers. In addition, when deregulation resulted in a massive entry into the taxi market, service quality fell and led to re-regulation in the form of service quality standards.
The message in this seems to be that sudden, sweeping reforms of taxi markets to serve narrow perceived failings often yield unexpected and unwanted results. B.C. Transportation Minister Todd Stone might want to heed this warning should he be inclined to revise the Passenger Transportation Act, under which the taxi industry operates. The solution, it seems, is for regulations - but regulations that are flexible, judiciously applied with a light hand and changes that are incremental and easily reversed or adapted. Pragmatic, practical and consensus-based policy derived from dialogue between operators, consumers and regulators seems to yield the most efficient results.
Source:
vancouversun.com