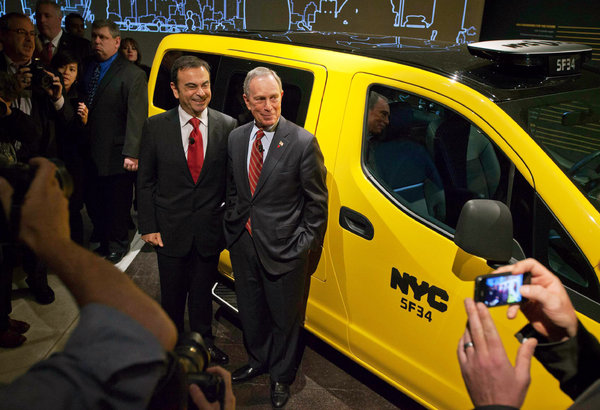 Adrees Latif/Reuters Mayor Michael R. Bloomberg with Carlos Ghosn, chairman of Renault Nissan Alliance, in 2012 in front of a Nissan NV200 taxi.
His green livery cabs finally
patrol the streets
outside Manhattan. His army of blue bicycles is well entrenched.
But in the dwindling months of Mayor Michael R. Bloomberg's tenure, his administration has been charged with a final, 11th-hour transportation heave: ensuring that its fleetwide Taxi of Tomorrow — with a spacious back seat, "low-annoyance" horn and a persistent habit of attracting lawsuits and political opposition — reaches the road.
Beginning Oct. 28, virtually every new non-hybrid taxi
is required
to be a Nissan NV200, the Taxi of Tomorrow chosen by New York City as part of a competition in 2011. The cabs are expected to be phased in over three to five years, until nearly all of the city's roughly 13,000 yellow cabs are the same.
The deadline has set off feverish preparations from the vehicle's proponents, hoping to hustle the cab into service, and fleet owners who say they dread its introduction.
Some fleets have planned to retire their cabs early, stockpile new ones that are not Nissan NV200s, and begin operating them before the deadline in a bid to forestall the Taxi of Tomorrow as long as possible — recalling a popular practice when the Crown Victoria was retired.
And in the coming weeks, the city will have to defend the vehicle in separate lawsuits intended to prevent the revised program's implementation, months after a State Supreme Court
judge invalidated
the city's initial plan, ruling that it defied the city's administrative code.
Any court-related delay could affect
the cab's fortunes
, with the project less likely to find support in the next administration. Bill de Blasio, the leading vote-getter in the Democratic primary and a frequent recipient of taxi industry largess, has been a vocal opponent of the scheme. In
a letter
he wrote with Assemblyman Micah Z. Kellner, and sent last year to the city's
Taxi and Limousine Commission
, Mr. de Blasio said the vehicle was in "likely violation" of the Americans with Disabilities Act because it is not wheelchair accessible. (It can be retrofitted to become so.)
A spokesman for Mr. de Blasio said only that the candidate would seek to address "local employment and accessibility" issues with the cab if elected. It is unclear if Mr. de Blasio would seek to turn back the city's plan outright if he had the power to do so, given the city's 10-year contract with Nissan.
The city's position calls to mind its early defense of policies like a smoking ban and a bike-share program: If passengers can experience the vehicle's sumptuous amenities for themselves, said David S. Yassky, the city's taxi commissioner, "that's the end of any debate."
Behind the scenes, the cabs are inching toward their debut. Production began last month at Nissan's assembly plant in Cuernavaca, Mexico. Mr. Yassky recently traveled to Nissan's North American headquarters in Franklin, Tenn., where he inspected the cars before the city issued its final approval. And for months, a handful of NV200s have been road-tested in New York City.
But the taxi's fate remains far from certain. After sitting out a spate of court cases in recent years, Nissan has petitioned a State Supreme Court judge to join the city to defend against a suit from the Greater New York Taxi Association, a group of medallion owners opposed to the plan. The group is accusing the city of exceeding its authority by mandating that operators buy a Taxi of Tomorrow.
Several industry officials said that Nissan's involvement suggested a degree of concern. A spokesman for Nissan did not say why it chose to intervene for this case and not for others. Mr. Yassky attributed the move to "an abundance of caution."
"I don't think it reflects an elevated level of concern," he said, adding, "They want to make sure nothing happens here right before the finish line."
The next hearing in the case is expected on Tuesday. Ethan B. Gerber, the taxi association's executive director, said the group planned to cite one of the mayor's highest-profile legal rebukes: a judge's decision to overturn his ban on large sugary drinks.
"You've got the court saying very clearly that administrative agencies are not there for social policy," Mr. Gerber said.
The city is also facing a suit from accessibility advocates who argue that the Taxi of Tomorrow is a van. Under federal law, the suit contends, any van used as a taxicab must be accessible for people with disabilities. Advocates have noted that the NV200 has won awards for "Van of the Year."
The city's Law Department, while disputing that the cab is a van, said that even if it were, federal law does not require a taxicab van to be accessible if disabled passengers can find equivalent service another way. The city said that its Accessible Dispatch system, which allows disabled New Yorkers to summon taxis directly to their addresses, should be considered equivalent service.
Though the city continues to project confidence in its legal prospects, the Taxi of Tomorrow's champions have found recent months to be trying. Besides the Bloomberg administration and the car company, there is perhaps no entity more invested in the cab's success than the proprietors of Koeppel Nissan in Queens, who have committed more than $1 million to become the leading service center for the Taxi of Tomorrow.
A lot has been set aside to accommodate scores of NV200s. Mechanics will be assigned to service the cabs, and a collection of lifts, wheel balancers and other equipment will be installed in a currently vacant garage. There will also be a lounge for cabbies, said Mark Lacher, the business's general manager, who promised bagels.
Mr. Lacher acknowledged that the suits had added an unwelcome "fly in the ointment." But he and Howard Koeppel — the company's president and a former fund-raiser for (and roommate of) Rudolph W. Giuliani — said they did not regret the investment, despite the cab's uncertain future.
"Give it another year," Mr. Koeppel said beside the lot on a recent afternoon, where he chatted with Mr. Yassky. "They're going to love us."
Nearby, where two mechanics were walking the grounds, Mr. Lacher offered further assurance.
"You ready for taxicabs?" he shouted, as the men looked up. "We'll have them!"
Source:
nytimes.com