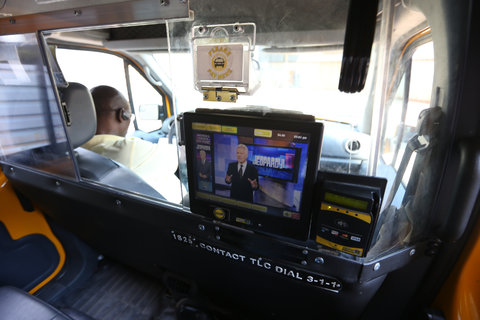 Chang W. Lee/The New York Times The version of "Jeopardy" shown in yellow cabs is passenger-friendly, meant to make people feel confident about their ability to respond correctly, not intimidated, its executive producer said.
or three years, "Jeopardy," the popular game show, has been running quiz-like advertisements in New York City's yellow taxis, offering passengers clues and prompting them to answer in the form of a question the way contestants on television do. Much like the experience of watching "Jeopardy" from home, there's no buzzer to ring or jackpot to win. Whether or not you know the answer, it will appear on-screen a few seconds after each clue.
But New Yorkers have noticed something strange about the version of "Jeopardy" they get while weaving through traffic. The clues that blink across back-seat screens in 6,600 of the city's 13,237 taxis are easier than their televised counterparts.
"I take cabs a couple of times a week and I also watch 'Jeopardy,' so you can tell," said Erin Booth, 23, who lives in the West Village, as she waited in line for a taxi outside Pennsylvania Station. Consider this clue from a taxi: "Cities around the country are using sprays to kill these insects in an effort to curb the West Nile virus." (The correct response: What are mosquitoes?)
Now compare that with a recent televised clue: "Founded in 1839, this Lexington, Va., school is the U.S.A.'s oldest state-supported military college." (What is Virginia Military Institute?)
Here's another taxi clue: "In 2013 Jeff Bezos of Amazon fame agreed to purchase this newspaper that has won more than 60 Pulitzer Prizes." (What is The Washington Post?) And one from the actual show: "Of the British surrender at Yorktown, he said, 'The play is over. The fifth act has just come to an end.'" (Who is Marquis de Lafayette?)
Liz Day, who lives in Chelsea, was in a taxi going to Kennedy International Airport for an early-morning flight when she noticed how much easier "Jeopardy" seemed to be from the back of a taxi.
"It was something like, 'This seaweed is eaten by whales,'" she said. "The answer was 'krill.' I like 'Jeopardy' but the taxi questions are just — it made me laugh. They must dumb it down on purpose because there are a lot of tourists."
Harry Friedman, the longtime executive producer of "Jeopardy," says clues written for New York taxis are meant to be "passenger friendly," regardless of who's riding. The idea is to make people feel confident about their ability to answer correctly rather than intimidate them out of watching the show. "The clues in the taxis are really for fun," he said. "They're meant to be, well, not overly challenging."
A team of eight writers and six researchers develop clues for the show's 46 weeks of new programming each year, and that same group comes up with 12 new clues for taxi spots each month. Hail a cab in Philadelphia, Los Angeles, Chicago or San Francisco, and you'll find taxi "Jeopardy" in those cities, too.
(Regular readers of The New York Times may notice that "Jeopardy" also publishes a separate clue-based advertisement in the paper each day. "Sometimes we worry those ones are too easy," Mr. Friedman said. "We never have to hold back with New York Times readers.")
Ken Jennings, the winner of the most money ever on "Jeopardy," says he has yet to encounter a clue from the back seat of a taxi. But a decade after winning 74 straight times and netting about $3 million in prize money, that may be just as well.
"I love the show but I find that now when I hear the music or Trebek's voice, I get stressed," he said, referring to the game's host, Alex Trebek.
Mr. Jennings, from Washington State, says he still gets asked about the secret to his success. In other words, is there a way to make televised "Jeopardy" seem as simple as some of the clues that appear in taxis?
"People always ask how you know all that stuff, like there's some secret I could teach them in 10 seconds, some memory trick, or an ancient Chinese herb that would make them 'Jeopardy' whizzes," Mr. Jennings said. "There's not a secret other than paying attention to the world. That's the right answer, but it's not the one people want to hear."
Source:
nytimes.com