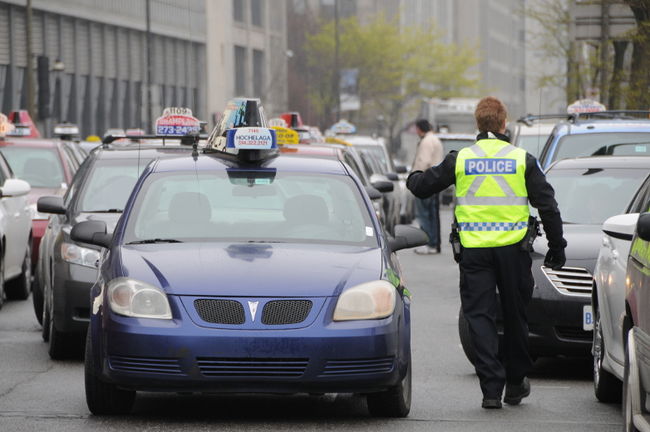 MONTREAL - Step inside, have a seat, sit behind glass and smile for the camera.
Under new regulations next spring, Montreal taxi passengers could be separated from the driver by a Plexiglas window and automatically videotaped, whether they like it or not.
Mayor Denis Coderre raised the possibilities after meeting for 45 minutes Monday night at city hall with representatives of the island's 4,300-car taxi industry.
Commenting on the killing of a Montreal cabbie last week in Côte-des-Neiges, Coderre told reporters it's time the city has a taxi policy that dissuades crime.
He said he'll consult with the industry over the winter and hear from the public in citizen forums and in city committee meetings, and have a policy in place by the spring.
"I've always been very sensitive to the taxi question," said Coderre, flanked by taxi officials and city councillors Anie Samson and Aref Salem, heads of public security and transport on his new executive committee.
"Tonight was a first meeting, and it's an important one, because we're going to come up with a strategy for a taxi policy in Montreal (in which) security is a reality."
Coderre gave a deadline to come up with a policy: next spring.
Besides a Plexiglas divider and video camera, other measures could include a 911 button that drivers could press in case there's trouble with a passenger, with fines imposed to dissuade unnecessary calls.
As well, the policy could include a common "signature" for cars like the yellow cabs New York City have, and special lanes for taxis on highways and bridges, subject to Quebec approval.
On Tuesday, the mayor will attend a funeral at a mosque in west-end St-Laurent for Ziad Bouzid, 45, who was found dead behind the wheel of his Diamond cab last Wednesday on Darlington Ave.
The driver had been killed with a shotgun blast to the head.
A suspect, Michel Duchaussoy, was arrested the following evening in the South Shore suburb of Boucherville. He was charged Friday with second-degree murder.
Shortly after the funeral, Bouzid's body will be flown to his homeland, Algeria, for burial. The victim, who lived in Pierrefonds, leaves behind a wife and three children.
Out of the 15,000 to 20,000 passengers the Diamond company takes every day, only one ends in an assault - but that's one too many, said Denis Laramée, the company's deputy general manager.
"And that doesn't count how many get stolen from every day," he added. "Someone leaps out of the cab, runs into a highrise of 200 apartments and disappears. It happens all the time."
Investigators say Bouzid picked the suspect and at least one other person up in Dorval before dropping them off on Darlington. There's no evidence Duchaussoy robbed Bouzid and it's unlikely the two knew each other.
Duchaussoy, 43, has a police record for assault dating back to 1994.
The shooting prompted a manhunt through Côte-des-Neiges by Montreal's SWAT team. Bouzid's death was the 28th homicide reported in the city this year.
Bouzid was a railway engineer in his native Algeria before coming to Canada. When his university education was not officially recognized in Quebec, he became a cabbie.
He worked up to 14-hour days, his wife, Samia Ali Messouad, told The Gazette last week.
His death prompted calls for more stringent safety standards for Montreal's 4,300 cab drivers. Benoît Jugand, executive director of Montreal's Taxi and Towing Bureau, argued for surveillance cameras.
Others demanded mandatory Plexiglas dividers between drivers and passengers; they've been optional under a regulation adopted in 2002, but almost no cars have one.
A divider can cost up to $1,000 to install and a camera about $800, industry official said Monday. Coderre said he'll look at ways to underwrite the expense, including selling video ads to run inside the cabs.
"I'm going to go to the funeral tomorrow to pay my condolences to the Ziad (sic) family, but at the same time I think it's an opportunity to see if we're doing things right here," the mayor said.
"If everyone's talking about security, then we have to address it."
Source:
montrealgazette.com