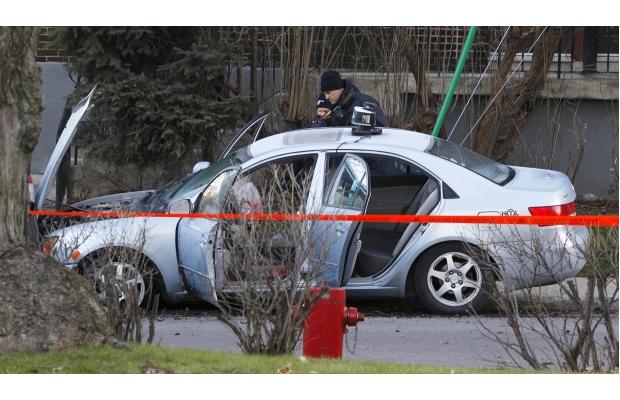 Constable Raphaël Bergeron of Montreal police said the taxi driver was found unconscious behind the wheel of his cab on Darlington Ave. after it struck a parked car just south of Côte-Ste-Catherine Rd. The crime scene is just east of the École des Hautes Études Commerciales. Photograph by: Dave Sidaway, The Gazette
Found wounded and unconscious behind wheel of his cab after it struck parked car on Darlington Ave.
MONTREAL — Blood smears on the driver-side window and elsewhere within a crashed taxi furnished clues for police investigators Wednesday morning, after a taxi driver was found fatally wounded about 12:15 a.m. in the vehicle in the Côte des Neiges district.
The victim, a 45-year-old man, was declared dead in hospital.
He has been classified as the 28th murder victim of the year on Montreal Island.
"We cannot confirm what caused the injury," Constable Jean-Pierre Brabant of Montreal police said Wednesday morning, refusing to confirm reports the cabbie had been shot in the head.
The victim's body will be autopsied.
"From there we'll know, if it's a firearm, what gauge, what calibre," Brabant said.
No weapon was found, he said, and no motive has been established.
"We're trying to figure out whether there was a passenger inside the vehicle," Brabant added, "and, if so, where did that passenger get picked up?"
The taxi driver was found on Darlington Ave., unconscious behind his steering wheel after his cab struck a parked car, Constable Raphaël Bergeron of Montreal police said. The crime scene was just south of Côte-Ste-Catherine Rd., near École des Hautes Études Commerciales (HEC).
The cab driver had no criminal record.
It appeared the fatal assault took place before the taxi struck the second vehicle, Bergeron said.
Around noon, a police perimeter had been set up around a Tim Horton's restaurant in Dorval. Brabant said that there were reports that a call was placed to the taxi dispatcher for Diamond, the company the slain driver worked for, from that location. The police were at the restaurant to see if there was surveillance video or any other information they could gather from the location.
Source:
montrealgazette.com