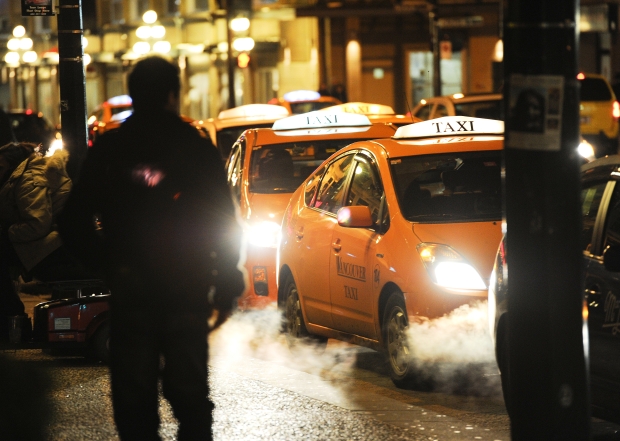 Vancouver cabbie Arsalan Shafquat says there's no big secret to being a good cab driver. In fact, all it takes is adherence to a simple slogan: "Be courteous to everyone," said the 10-year veteran Thursday. "We try our best to give the best service."
Apparently, others think the service is pretty darn good. Contrary to popular belief, Vancouver's taxis are among the best in the world, tied for eighth globally, and tops in Canada, according to an international taxi survey released recently by
Hotels.com
.
The annual survey, which tallied the responses from 2,683 respondents across 30 countries, ranked Vancouver ahead of Montreal and Toronto (the two other Canadian cities surveyed) in overall quality rankings — including cleanliness, quality of driving, friendliness and availability — falling behind only in safety (Toronto) and knowledge of the local area (Montreal).
Overall, London's iconic black cabs, for the sixth year in a row, were voted the best taxis in the world, followed by New York and Tokyo.
The results may come as a surprise to Vancouverites who, when not bashing the Canucks or griping about the rain, can often be heard complaining about the city's four cab companies. (The moans reach a peak when it's raining and the Canucks are on a losing skid.)
Internet chat sites and online message boards are rife with sharply-worded rants, penned by frustrated taxi users complaining about everything from rude drivers to the inability to actually hail a ride.
Just this week, Bruce Allen, a Vancouver radio personality, complained on-air about the "very, very spotty service" of Vancouver's taxi companies. And a
call out to Province readers
Thursday to comment on the survey resulted in mostly negative feedback.
Carolyn Bauer, executive director of the Vancouver Taxi Association, admits Vancouver's cab companies have a bad reputation. But she said the survey is indicates the overall impression of Vancouver's taxi service is improving, if slowly.
In the 2012 survey, Vancouver, while tops in Canada, was ranked 33rd overall.
"We do get a bad rap," she said. "We always hear the bad, but lately we are getting a couple of good stories coming out so I'm pretty happy with it," she added in reference to the survey and the story of a
Vancouver cab driver who this week returned $10,000 in cash
that a customer had inadvertently left in a cab.
Bauer said service and quality within Vancouver's taxi fleets have improved dramatically since 2011 when the city's four companies agreed to work co-operatively under the Vancouver Taxi Association.
Representatives meet twice a month, she said, to work collectively "on all issues." On top of that, the association works closely with the City of Vancouver and the Vancouver Police Department, she said.
"For the most part, the guys are great — the comments I get, the queries that come through in emails, the cruise ship terminals [are positive]," she said. "I personally work the cruise ship terminals . . . and everybody is shocked. They are coming in from around the world and they are going 'This is amazing taxi service. Amazing taxi service.'"
While Bauer hopes to knock off London in next year's survey, one local cab driver believes Vancouver is already tops.
"I think we are No. 1," said Bal Cheema, a Vancouver Taxi employee who has been driving a cab for 22 years. "Comparing the services, comparing the cars, comparing the cleanliness, [we are the best]."
Source:
theprovince.com