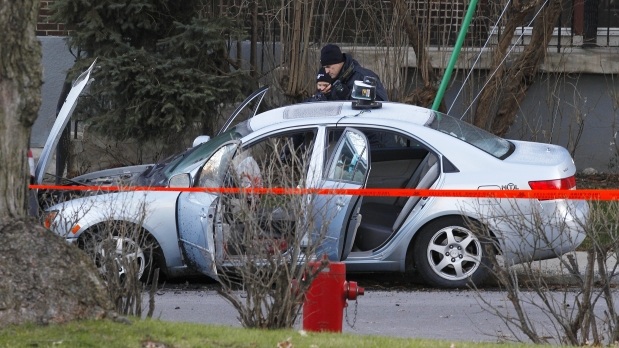 Police investigate the scene of Montreal's 28th murder of 2013, the shotgun slaying of taxi driver Ziad Bouzid in the Côte-des-Neiges district Wednesday. Photograph by: Dave Sidaway , The Gazette
MONTREAL — Samia Ali Messouad's legs began to shake when she saw the police outside her house Wednesday morning.
Her husband hadn't come home after driving his cab across the city the previous night and now two cops were knocking at her door.
"At first I thought it was him, but then I saw (the police) and I knew something was terribly wrong," Messouad told The Gazette. "When they told me he was dead my brain just stopped. It's like I wasn't hearing it, like it wasn't happening. But it was real and it was awful."
Police found Ziad Bouzid behind the wheel of his taxi sometime after midnight Wednesday. The cab had crashed into a parked car and Bouzid sat motionless in the front seat, dead from a shotgun blast to the head.
It's unclear why someone killed the 45-year-old father of three. Police arrested Michel Duschaussoy in Boucherville on Thursday and on Friday he was charged with second-degree murder. Investigators say Bouzid picked the suspect and at least one other person up in Dorval before dropping them off on Darlington Ave.
But there's no evidence he robbed Bouzid and it's unlikely the two knew each other.
The apparent lack of a motive behind the killing makes the act of violence all the more incomprehensible to Messouad.
"It's very frustrating, we can't find words to express it," she said during a telephone interview. "We want to see justice done but still nothing will bring him back."
Bouzid was an earner. He worked up to 14 hours each day, pulling into the family's Pierrefonds home while his wife and children slept.
"He would have wanted to just work a regular nine to five, to spend more time with his kids but he didn't have a choice," Messouad said. "We have a daughter in college, an 11-year-old son and our youngest boy has autism. You need to work long hours to provide for a child with special needs."
The two met while studying to become engineers in Algeria. They fell in love, got married and Bouzid went on to work as a railroad engineer in the Northern African country.
When they moved to Quebec to raise a family, neither of their university degrees were recognized by the province. So Bouzid hunkered down and took a job as taxi driver.
"He went from being a well respected engineer to a cab driver," she said. "He could have complained, he could have just crossed his arms and waited, but he didn't. My husband loved us dearly and he wanted to give us the best life he could."
On Wednesday, news of Bouzid's death prompted many in the city's taxi industry to call for more stringent safety standards for Montreal's 4,500 cab drivers. Benoît Jugand, executive director of Montreal's Taxi and Towing Bureau, said the killing underlines the need for surveillance cameras in taxis. Others said there needs to be a Plexiglas division between drivers and passengers, and pointed to existing industry guidelines, which advise cabbies against picking up severely intoxicated customers.
But no matter what measures are taken, the job is inherently dangerous. Drivers mostly work nights, deal in cash and with expenses to cover and an increasingly efficient public transit network to compete with, few can afford to be fussy about what kind of fares they pick up.
"I don't want this to ever happen to another family," Messouad said. "Children shouldn't have to cry for their father like mine did and women shouldn't have to grieve their husbands like I do."
Source:
montrealgazette.com