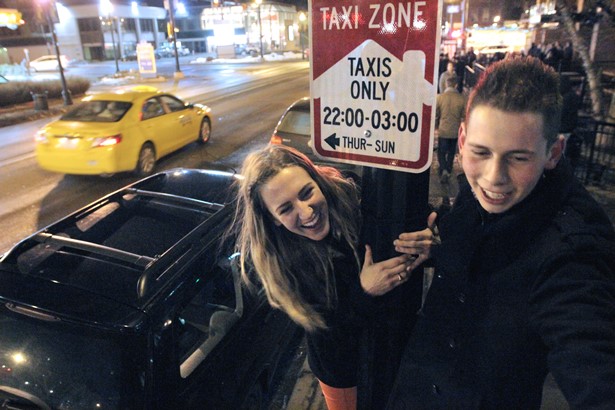 Boozy bar goers swing from a late-night taxi stand sign on 17th Avenue. S.W. Calgary's taxi advisory committee has approved a $100 fine for puking passengers starting next year. Puking passengers will face a $100 fine starting next year Photograph by: File , Calgary Herald
As authorities argue over cabbies ignoring the dispatch system, Calgary's taxi advisory committee has approved a solution to a more literal mess.

Puking passengers will face a $100 fine starting next year, the committee decided Friday.

Taxi demand is traditionally late on weekend nights, and that's also when cab drivers are most afraid a drunken reveller will vomit in their car.

"I don't deal with drunks anymore. I put up with that when I was younger," said Rob McGregor, a cab driver since 1992.

The city has struggled for years to ensure there are enough active cabs in its regulated system to handle the late-night rush, especially during Christmas party season. New data from another busy month July - when the Stampede is - showed nearly one-third of cabs that were on the roads didn't have their dispatch system on, adding to the busy signals and long waits that callers faced.

There are various explanations among drivers, company executives and taxi regulators for the excessive rate of tuned-out drivers, but there was more agreement on the merits of having a fine to deter puking.
Paul Sekhon, a Checker driver who sits on the taxi advisory committee, said he's not sure the $100 fine is high enough. It would only cover cleaning, and not the lost revenue from a Friday night ended early by a sloppy passenger.
"If I'm starting my night at 9 p.m. and on my first trip somebody throws up — there's my shift gone," Sekhon said. He's had to deal with vomit twice in his career as a cabbie.
Marcia Andreychuk, a business analyst for the city's taxi regulation unit, said she's aware of similar fines at $50 and $200 in the United States.
Adding the fine to Calgary's taxi bylaw wasn't the city's idea. During focus groups for a new customer satisfaction survey, several residents brought it up — pun not intended.
While a vomit fine may lure some additional cabbies into the late-night weekend service — council will have to enact the bylaw next year — it is not seen as a fix to the larger demand problems.
Cab executives also urged the committee and public not to be so frustrated with taxi shortages this month, given the weather. The snow-clogged streets that have made it difficult for vehicles to get around the city also torment cab drivers.
"We're not miracle workers," said Kurt Enders, owner of Checker. "Calgarians don't want to walk in the cold, so our volume goes up by 8,000 per cent. You can't staff for peak demand."
But when there is peak demand in winter and roads are awful, many cab drivers are like everybody else — they're wary of heading out. Roger Richard, who runs Associated Cab, said for the first half of December his cabs were only out an average of 8.3 hours a day. That means many of the 1,466 licensed taxis in Calgary's system aren't active at all most of the week.
Rupinder Gill, another driver on the advisory committee, said he used to eagerly hit the ice-glazed winter streets when he was a new cabbie, eager for good fares.
"Now when there's a snowstorm, I think twice ... I have a family, kids. It's not worth it to make $300," Gill told the meeting Friday.
Many of the taxi drivers who have their dispatch systems closed are either waiting at hotels, the airport or downtown to be flagged down for fares. They're generally required to have their radios on, but many are afraid of 'no-trips' — heading to the suburbs for a pickup, only to find that the passenger has picked up another cab, or didn't show up. Andreychuk said company data shows no-trips can account for one-tenth of all dispatch calls, and in peak times up to 25 per cent.
"Nobody orders Pizza 73 and Dominos to see who comes first," said Mohamed Benini, a driver in Airdrie. He levies a $5 fine for no-shows, and blacklists the passengers if they don't pay.
Source:
calgaryherald.com