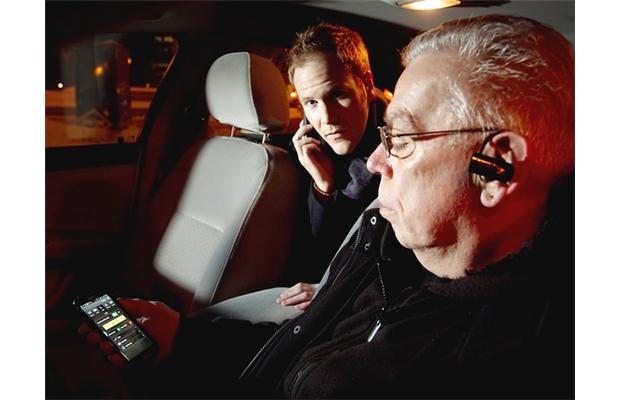 Jeff Desruisseaux, left, director of Hailo Montreal and taxi driver John Detcheverry use the new app for cabs in the city while downtown on Jan. 9. Photograph by: Pierre Obendrauf, The Gazette
MONTREAL - Last summer, Montreal cab driver John Detcheverry was sitting at a taxi stand playing on his smartphone when he was approached with an offer he couldn't refuse.

Detcheverry was invited to join Hailo, a new electronic dispatching application that matches drivers with potential passengers using their iPhone or Android phone.

Detcheverry has been an independent driver since 2000 because he didn't want to pay hundreds of dollars up front every month to a traditional broker. With Hailo, there were no monthly charges, just a 15-per cent commission off each ride he gets using the app.

Since the service launched in Montreal in November, Detcheverry hasn't looked back. He said he received many calls from customers using the application over the holiday period, although things have quieted down since then.

"There's no lose in it. It's win-win. I just install an app and I can take customers with it," he said. "I don't want to pay someone a few hundred dollars a month for calls that may or may not come in.

"This is a pay-as-you-go."

The arrival of e-dispatch services like Hailo and Uber are shaking up Montreal's taxi industry.

Independent drivers like Detcheverry are making the switch while other cabbies are abandoning their brokers — or using the apps on the side to pick up extra fares. Meanwhile, traditional taxi companies are complaining the upstarts are honing in on their turf. And the city, which closely regulates the cab industry, is concerned not all the newcomers are playing by the rules.

But for drivers, e-hailing apps are attractive.

Local cab driver Claudy Joseph used to work for a traditional broker company but recently started using Hailo and Uber.

"I switched because it was too expensive," he said.

In Montreal, taxi drivers can pay anywhere from $300 up to $500 a month for traditional dispatching services and there's no guarantee how many fares they're going to make. Plus there's a lot of overhead for equipment like computers and GPS.

Jeff Desruisseaux, general manager of Hailo Montreal, said the app is bringing about a much-needed modernization of an industry that has been slow to evolve.

To use Hailo, customers download an app on their smartphone with a map that pinpoints their exact location, the location of nearby partnered drivers that are available and the estimated time of arrival of the closest car.

From there, users can summon a car to pick them up at the tap of a button.

Customers register ahead of time with their name and credit card information, so when they get to their destination, they can just leap out because the fare, including tip, is automatically billed to their account.

"I think the taxi industry does need to change, to innovate, and that's actually why Hailo's entered the market," Desruisseaux said. "We feel like we have a solution that lends itself very well to the current situation in Montreal, given the fact the industry hasn't really evolved in decades."

Uber is another app that launched in Montreal in November.

"The goal of an application like Uber is to simplify the process of hailing a cab in Montreal," said Jean-Nicolas Guillemette, general manager of Uber Montreal.


But traditional brokers like Taxi Diamond and Taxi Champlain haven't rolled out the welcome mat. Some long-existing cab companies have developed apps, in addition to their call-in dispatch services, but still charge drivers the monthly fee.

Yet, some of their drivers may be using Hailo and Uber to get additional fares in violation of exclusivity agreements and posing a potential customer service nightmare.

"It is against the internal rules of the company," Costa Giannakoudis, president of Taxi Champlain, said. "When you're with us, you're serving our clients. You cannot serve the clients of another company."

The company has advised its drivers they will be terminated if they're caught using the apps, Giannakoudis said.

Taxi Diamond also has a problem with its drivers working with the e-hailing services. About 10 of its drivers have already left to go with Hailo and Uber.

"We don't want our drivers to work with another company because it creates a customer service problem," said Denis Laramée, deputy general manager of Taxi Diamond.

He doesn't want his drivers to accept calls from their dispatcher and then choose to pick up a customer using an e-hailing app instead.

If that were to happen, Taxi Diamond would be blamed for poor customer service, he said.
The city of Montreal, which regulates the taxi industry, is also trying to keep up with the changing times.
Aref Salem, the executive committee member responsible for transportation in Montreal, said Hailo paid for a taxi licence to operate in the city, but Uber has not.
"Uber never came to us," Salem said. "It is actually operating illegally."
Since Uber is not operating with a permit, the governing body cannot enforce rules like regulating fares or ensuring drivers are properly licensed.
And if there were ever an incident with a driver or passenger, the city would have to go through the government of California, where Uber's headquarters are located, in order to get information from Uber, Salem said.
"We can't retrace a person who assaults a taxi driver because the information is not in Canada," Salem said.
Guillemette claims Uber doesn't need a taxi permit because it is a technology company, not a taxi dispatcher. He said Uber is working with licensed drivers only.
This week, angry traditional cab drivers in Paris vandalized the car of an Uber-using cabbie there. Pictures of the damage went viral on Twitter.
During the holiday season and the recent bad weather in the United States, Uber raised the price of its fares as demand soared, a phenomenon known as surge pricing. In New York, some passengers were charged more than eight times what they would normally pay, according to the New York Times.
American author Jessica Seinfield posted a picture of a $415 receipt on the Internet with the caption "never again."
In an interview with the Wall Street Journal, Uber CEO Travis Kalanick defended the company's price surge by saying it is no different than policies used by airlines or hotel chains during peak season.
In Montreal, it is illegal for taxi companies to raise fare prices according to demand. But Salem said because Uber doesn't have a permit, there is little the city could do to enforce the law.
"If there's a snowstorm, they can charge $60 for a $20 fare," Salem said. "Nobody can tell them that they can't."
But drivers like Detcheverry couldn't be happier.
"It brings me customers I would never otherwise have had," he said.
*******
Breaking down new e-hailing apps
HailoLaunched
in Montreal in November 2013.
Company
was founded in 2011 in London, England.
Apps available
for the iPhone and Android devices.
Base fare
is $3.45.
Tipping can be added
to the fare. The default is set at 0 per cent but can be changed in the application's settings.
Hailo says
it has a "couple of hundred" drivers in Montreal.
Available in 16 cities
in six countries, including Montreal and Toronto.
***
UberLaunched in Montreal
in November 2013.
Company founded
in 2009 in San Francisco.
Apps available for
iPhone, Android and BlackBerry smartphones.
Base fare
is $3.45.
20-per-cent tip
automatically added to the fare price but can be changed on the company's website.
Uber would not comment
on the number of drivers who work for the company in Montreal.
Service available in 67 cities
in 25 countries, including Montreal and Toronto.
Source:
montrealgazette.com