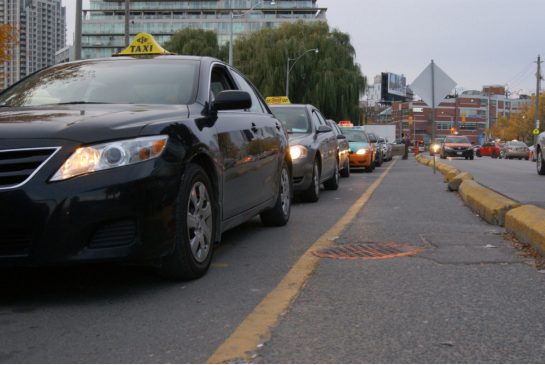 JEFF GREEN / TORONTO STAR Taxis queue at the Billy Bishop Toronto City Airport's passenger transfer facility. Toronto's licensing and standards committee is reviewing proposal that will alter the city's taxi industry.
Hundred of Toronto taxi drivers to address the city's licensing and standards committee on Thursday. Many say proposed industry overhaul not needed
About 600 people have registered to appear before the city's licensing committee Thursday to weigh in on a proposed and contentious overhaul of Toronto's taxi industry.
"That's huge. That's a first time that I know of in Toronto's history that we have that number of deputants," licensing and standards committee chair Cesar Palacio said Wednesday.
"I have my sleeping bag all ready for the action," he said. "If it takes two or three days I'm ready for it."
Last week, city staff released the Taxicab Industry Review final report containing dozens of recommendations following an extensive review that began in December 2011. The report is expected to be presented to city council Feb. 19.
This proposals address issues relating to accessibility, licensing structure, driver safety, and technology. Some are to go into effect immediately while others involve a phased-in implementation.
A taxi industry lobby group is suggesting the recommendations will damage the city's taxi industry. "Taxi plates are not broken. Why is city hall trying to fix them? The excellent customer service which Toronto's taxi industry currently provides will disappear," Jim Bell of the Toronto Taxi Alliance, said in press release.
Palacio said the report contains some good recommendations but there are others that need further study.
"This time we are going to do the right thing," he said. "I don't want another fiasco of what happened with the a la Carte program where the city was too prescriptive in terms of what they wanted." He was referring to the widely criticized program designed to diversify food sold by street vendors.
City staff is working with the clerk's office to accommodate the hundreds of people who have registered to speak Thursday, Palacio said. The meeting will be held in the council chamber with the overflow moved to a committee room and rotunda.
"People, rightfully so, they want to be part of the process," he said. "That's my job as chair of the committee to make sure that people are going to be heard and we're going to listen very carefully."
Source:
thestar.com