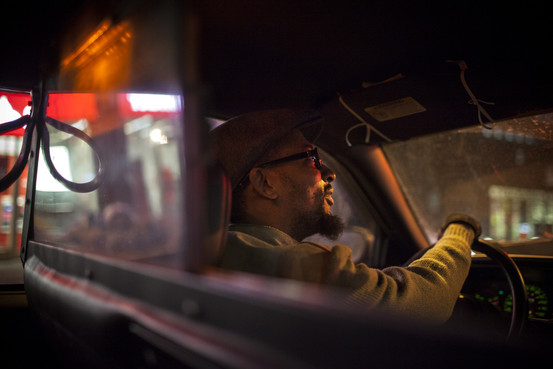 The taxi driver–and star of 'Take Me Home'– chats with the audience in the back seat. See more photos in our slideshow. Natalie Keyssar for The Wall Street Journal
One of the hottest seats in town may just be in the back of a cab.

"Take Me Home" is a 40-minute play that is set entirely inside a moving taxi as it snakes through the largely abandoned streets and alleys of the after-hours Financial District.

Audience members—three per cab, three rides per night—are told to show up at an ATM vestibule in Chinatown, where a 6-foot-4-inch man named Zane asks, "Are you looking for a ride home?" and then flags the cab.

"I'll take you to a city that's not your city," actor Modesto "Flako" Jimenez, an actual livery cab driver, says in his role as taxi driver Ace Morales. "I'll take you to the other side. I'll take you on a ride."

As the cab drives around, Mr. Jimenez, 31 years old, tells the story of a fraught relationship peppered with anecdotes from his fares, as actors along the sidewalks and plazas act out scenes.

Riders may get the feeling of being in the movie "The Truman Show," in which Jim Carrey plays a man who learns his life is a scripted television program. Is that arguing couple part of the play or part of the city? Surely that Jamaican street cart vendor isn't in on this, or is he?

Mr. Jimenez, a co-founder of Real People Theater, calls his performance "bacting"—acting with your back to the audience. His engagement of the audience veers from intense one-on-one questioning to fiery Spanish-English soliloquies that are half-shouted at the city itself, as if author Junot Díaz were cast as Travis Bickle from "Taxi Driver."

This isn't a cab ride that can sink into smartphone-surfing or Sandy Kenyon's "Movie Minute," although some scenes do play out on the cab's video screen. During real-world glitches—a slow garbage truck, or a blizzard—the play vamps and improvises.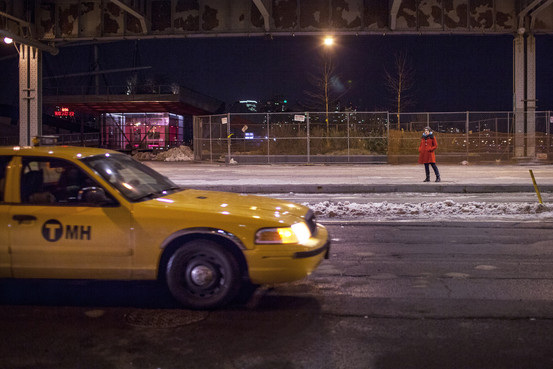 The taxi drives by a women wearing a red coat, representing a love interest. Natalie Keyssar for The Wall Street Journal
Audience members are warned (and must sign a waiver) that drunken or debauched behavior won't be tolerated. "However the audience behaves, the show works," said Meghan Finn, the play's 33-year-old director. "The built-in formality of a cab ride gives us a slingshot into intimacy."
Although the tickets aren't free (they peak around $50), the production is mostly buoyed by a mix of online
crowdfunding
, grant money from the lower Manhattan Cultural Council and investment from 3LD Art & Technology Center.
"Take Me Home" opened Jan. 9 for a planned run until Jan. 26. It was extended until this Friday and backers hope it will return in the spring. The work is a natural follow-up to Ms. Finn's "The Downtown Loop," set on a double-decker bus but staged indoors.
The play's surreal nature is also reminiscent of "9Y40," an art project last year in which Daniel J. Wilson, a licensed cab driver, recorded his cab rides and played back the audio of riders' conversations to other riders. (The project was named after his medallion number.) Or Jeff Stark's two-hour play, "IRT: A Tragedy in Three Stations," staged in 2009 on the subway for $10 a ticket.
"People love that," said Mr. Wilson. "The feeling of realizing that something you're used to is suddenly fresh. It creates a memory out of something forgettable."
Mr. Wilson got in hot water with the Taxi & Limousine Commission over his recordings, but, by contrast, the TLC is excited by "Take Me Home."
"Forgive the pun, but I love this as a vehicle," said Allan Fromberg, a TLC spokesman. "A taxi ride can really be either two things: very insular or very experiential. Cab drivers are often only too happy to give you whichever you want."
Mr. Fromberg added that the play is the greatest use of an actor in a cab since the seat-belt public service announcements voiced by actors from 1997 to 2003, a campaign Mr. Fromberg oversaw.
Diligently, he noted that the average cab ride is 12 minutes and 55 seconds, not 40 minutes. And indeed, the fare on the meter—it was $349.50 by the end of a recent performance—is similarly unrealistic.
"Yeah," Mr. Jimenez laughed, "people freak out when we've gone two blocks and it's already $7. They ask if they'll have to
Source:
wsj.com