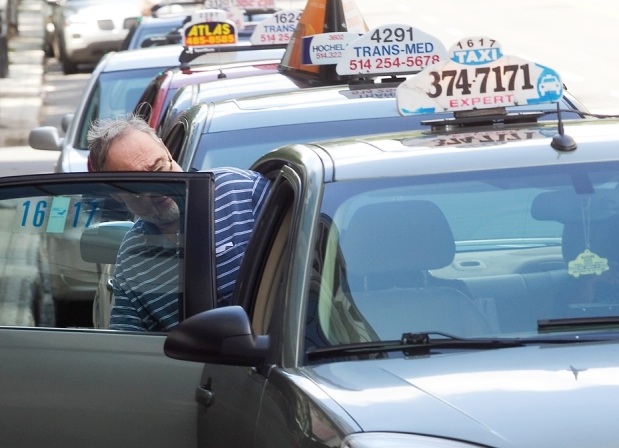 A consultation document suggests panic buttons and security cameras be installed inside vehicles. Photograph by: Pierre Obendrauf , The Gazette
MONTREAL — The city of Montreal will examine new safety measures for the taxi industry and other reforms in a series of public hearings that start on Tuesday.
Presented as a public consultation on improving safety inside taxis, the city's announcement says the process will also broach the image of the taxi industry, the need for training and modern equipment, regulation changes and the fight against illegal drivers.
Mayor Denis Coderre pledged to hold hearings and implement new safety measures by June after attending the funeral of slain taxi driver Ziad Bouzid in November. The father of three was found with a gunshot wound to the head inside his cab in the Côte-des-Neiges district.
Michel Duchaussoy faces a second-degree murder charge.
"The municipal authorities had promised at the time to think about the question of drivers' safety and we welcome the news that the mayor is keeping his word," said Dominique Roy, the president and general manager of Diamond Taxi, where Bouzid worked.
Representatives of the city's Bureau du taxi de Montréal and the Montreal police will make a presentation at the opening of the hearings at city hall on Tuesday. City council's transportation committee is hosting the consultation over four evenings.
A consultation document prepared by the Bureau suggests panic buttons and security cameras be installed inside vehicles.
Access to the camera footage should only be available to the police to protect passengers' privacy, it says.
The document says a U.S. study has shown that security cameras have worked to dissuade crime, while Plexiglas shields that separate passengers and drivers have not.
The public will be invited to make presentations on May 7 and 12, and the committee will deliberate on its recommendations on May 21.
Source:
montrealgazette.com